Preparation time

5 mins

Cooking time

15 mins

Difficulty

Serves

3 people
Meal course

Posted on

October 7, 2018
6 no.

5 no.

1 no.

1 no.

3/4 cup

2 inch

1 tblspn

1 cup

2 1/2 tspn

2 tspn

1 handful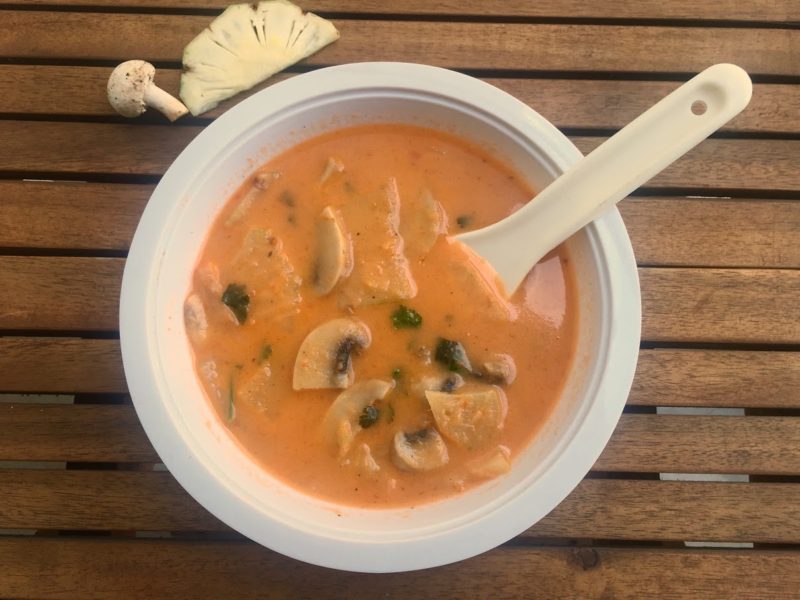 This is a refreshing Vegan Pineapple based soup with simple ingredients,quick to make,fusion of Asian style of soup predominantly Thai,Indian and Cambodian styles. It is good for cold and cough, maintaining a healthy diet- no cream,no bad fat. This is a good food for toddlers too especially to recover from flu.
Method:
Take a pressure cooker. Add 1 tblspn of coconut oil and 1 cup of water.
Add a layer of 1 roughly chopped onion,1 chopped tomatoes,2 inch crushed ginger.
Add layer 2 of cleaned and chopped mushrooms.
Layer 3 of diced pineapple pieces roughly 50g,adjust as per taste. Would need at least 5-6 pieces for good flavour.
Sprinkle salt all over and cook in high (in induction stove, it will be 800-1000 W) for 4 whistles.
After pressure settles, grind everything except mushrooms and pineapple.
Mix everything and add 3/4 cup of thick coconut milk.
Do not boil,but heat it in simmer. Adjust salt and pepper powder. Add some coriander leaves.
Healthy and yummy pineapple soup can be served warm.
You can also add lime juice at the end after cooking is done.
Add 1 split green chilli or fresh red chilli for extra hotness.