Preparation time

15 mins

Cooking time

25 mins

Difficulty

Serves

3 people
Meal course

Posted on

August 8, 2016
1 1/2 tblspn

1 tspn

1 tspn

3 tspn

3 tspn

4 cup

3 no.

1 cup

1 no.

1 1/2 tblspn

1 1/4 cup

1 no.

5 no.

1 1/2 tspn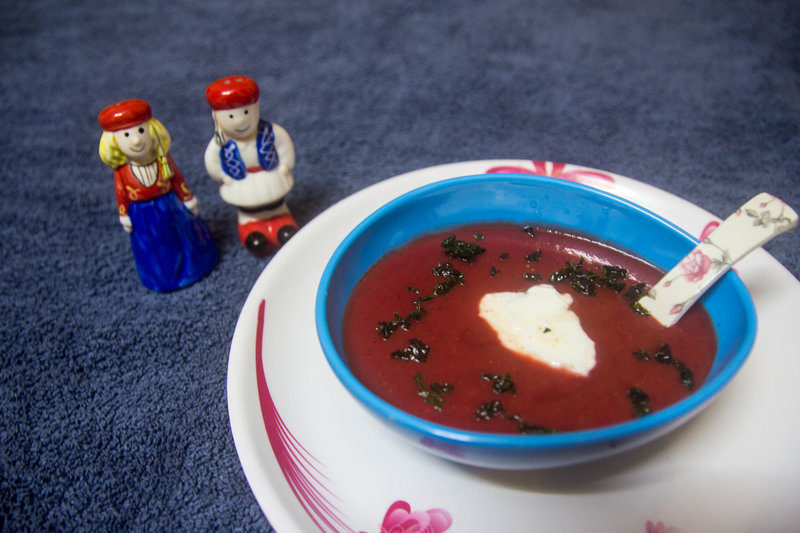 This soup is easy to prepare and so nutritious not to miss certain veggies like Beetroot. I dont like beetroot in the form of usual curry or rice. This is one of my favourite ways to consume this vegetable. The ingredients of the soup are so much Indian and soothing for the palate. It can be fed even to kids easily.
Method:
Chop 1 beetroot,a carrot and 3-4 potatoes after peeling the skin.
Add them in a pressure cooker with 3 cups of water.
Cook for 4-5 whistles.
Cool down the vegetables and retain the water.
Grind 1 spoon of cumin(jeera) and caraway(omam in tamil and ajwain as in hindi) each using mortar or mixer.
In a pan, add 1 tblspn of olive oil.Fry 1 chopped onion and 5 garlic pieces until soft.
After cooling them, grind the vegetables,onion,garlic into a very smooth paste.
Add  2 cups of vegetable water after they are smashed a bit.
Now add the ground paste to the pan. Add cumin-omam powder.
Add 2 more cups of water and simmer the stove.
Add needed salt and pepper powder.
If needed, you can add some mixed herbs too.
Leave the soup in stove for 5 more minutes till you get required consistency.
For garnishing, I dint use coriander or any usual greens.
Fry tender murungai(drumstick) leaves in 1.5 tblspn ghee.
Garnish the soup with the crispy leaves.
You can also add green peas,beans when you smash vegetables.
A spoon of yoghurt/curd can be added for garnishing instead of fresh cream making the dish more traditional.