Preparation time

5 mins

Difficulty

Serves

1 people
Meal course

Posted on

March 3, 2016
8 no.

1 no.

2 no.

1 1/4 cup

1 tblspn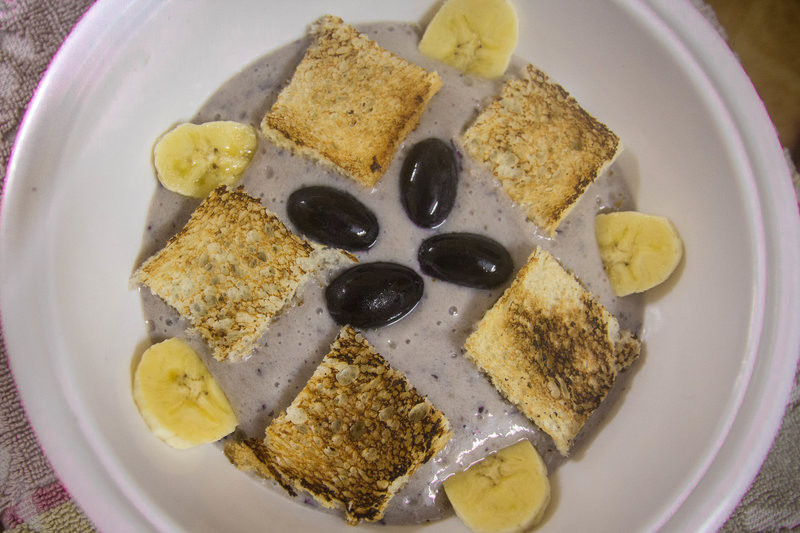 A combination of darkest and lightest coloured food always makes a good treat to eyes as well as taste. Black grapes and ripe red banana blended with milk makes a very healthy smoothie. Very quick to make and kids will love too. For making it a bit heavy snack, I toasted(dry toast) milk bread along with it and was a fulfilling one.
Method:
Wash 7-8 black grapes. Remove seeds(if seeded variety) and add it to the blender.
Cut smaller pieces of a ripe red banana.
Add a cup of milk and blend it to smoothie. Adjust milk as needed.
Add honey after checking the taste. Since all 3 elements have natural sweetness, you can avoid it too.
Dry toast milk breads as needed and top it.
Have the smoothie along with some bread pieces.
You can also have this smoothie alone as a dessert.
This smoothie is rich in Iron,potassium and good for digestion. But yes, having these fruits eaten raw have much more benefits than as a smoothie. Anyways, we always need a variation right!!
It is served as quick energy drink. You can also add some corn flakes, oat flakes,nuts or honey almonds and have it for breakfast.
Strict vegans can also try with almond milk or soy milk. Yoghurt will also be a nice option.