Preparation time

5 mins

Cooking time

10 mins

Difficulty

Serves

1 people
Meal course

Posted on

December 2, 2017
1/2 cup

2 cup

1 tspn

1 cup

1/2 tspn

2 tspn

4 no.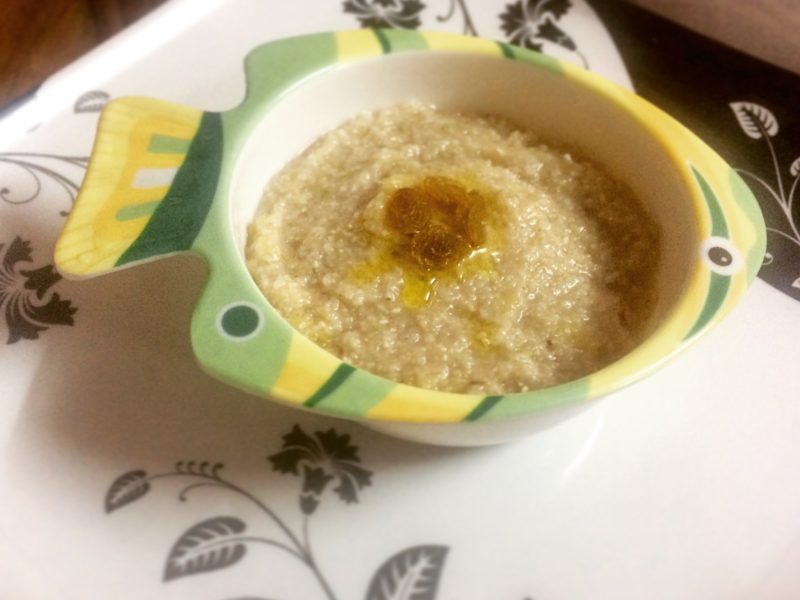 Broken wheat or Daliya is a very healthy comfort food for babies. This is a simple sugar free recipe done in a jiffy in a pressure cooker.This can also be altered to be food for toddlers and adults by adjusting sweetness. Wheat can be added to babies after introducing rice and ragi probably.
Method:
Add 2 tspn ghee in a pressure cooker in low flame. Add some raisins to it(brown or black).
After few seconds, add 1/2 tspn of roasted almonds powder.
Add 1/2 cup of broken wheat (Samba wheat rava) and toss it for 1-2 min.
Now add 1 tspn of jaggery powder and 1/2 tspn of cardamom powder.
Add 1 cup of diced apple to it.
Bring it to a medium flame and add 2 cups of water.
Allow it for 4 whistles and switch off.
Smash the apples and give a quick stir to get uniform halwa.
This yields almost 3 small cups of halwa/porridge. You can measure down or up according to the appetite of baby.
Check the consistency and adjust with hot water or thicken it a bit. This was just right for my baby Viv. Serve lukewarm immediately.
You can also add dates puree or banana puree for extra sweetness and avoid jaggery if you dont prefer.
For adults and toddlers, jaggery amount can be increased to 2-3 more tspn. You can even add thick cow milk,some more ghee and condense the halwa.