Preparation time

5 mins

Difficulty

Serves

2 people
Meal course

Posted on

April 29, 2016
3 no.

1 no.

4 no.

1 tblspn

1 1/2 cup

1 tspn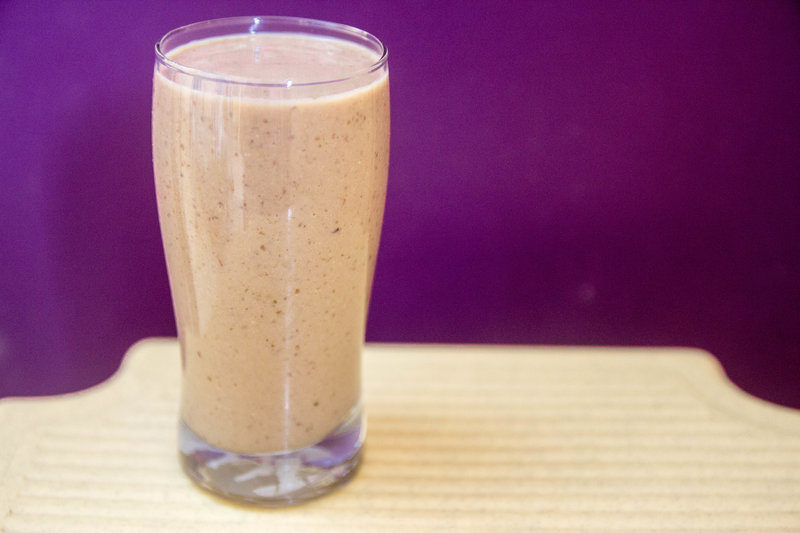 I have named it a brown smoothie. It predominantly has brown ingredients along with flax seeds. It is a wholesome breakfast or an evening drink loaded with vitamins and minerals. Choco flavour enhances the taste too.
Method:
Deseed and soak 4 dates for 5 minutes.
Grind 1 tblspn of flax seeds into nice powder.
Add 2-3 Chikoo(Sapota) fruits,1 red banana,dates and 1 tblspn of flax powder.
Add 1.5 cup of milk, 1 tspn cocoa powder (or cacao powder for the purest form).
Grind it smoothly. Add honey if you need extra sweetness.
Adjust milk as per the required thickness.
Flax seeds powder can be added upto 1.5 tblspn. It gives a nutty flavour and improve health benefits of omega-3 fatty acids and helps reduce cholestrol,improves digestion and diabetes. Thus the smoothie best suits for all age groups.
If needed,you can avoid chocolate too, it tastes well without it.
Honey is also not needed mostly because all the fruits added have sweetness on its own.