Preparation time

5 mins

Cooking time

15 mins

Difficulty

Serves

2 people
Meal course

Posted on

October 9, 2020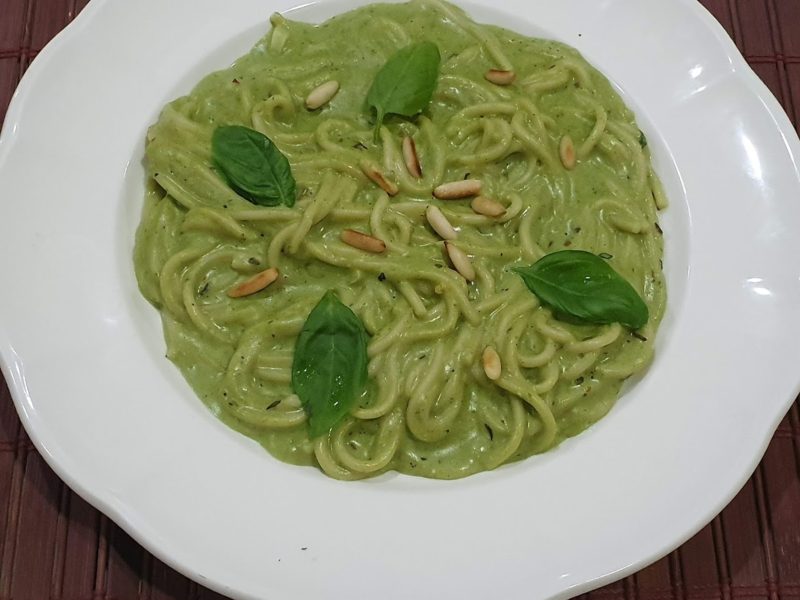 Pesto Pasta is an Italian dish made using Italian sweet basil sauce, pasta and cheese. I always prefer a slightly creamy version and hence make this light green, creamy Pesto pasta with no addition of cream or loaded cheese. The herb by itself is very healthy, refreshing and good for a flu day served warm.
Method:
Pesto sauce:
The main ingredient is Italian basil, please do not substitute with Indian basil if not available.
Dry roast 3 tblspn of Pine nuts slightly on a pan, keep it aside. Alternately, you can use fresh almond,cashew or walnuts too.
Add 2 cups of basil,5 garlic cloves,2 tblspn pine nuts,1 cheddar cheese cube (or 2-3 tspn of grated mozarella/parmesan cheese),1/2 tspn of salt,1 tspn of pepper powder and grind smooth in a mixer.
Do not add water initially, the wetness in basil itself makes a thick paste. If needed, add 1 tspn maximum and 1 tblspn of olive oil. Set aside the sauce. If needed, you can also add bit of lemon juice to retain a very bright green colour.
Pasta:
Cook Penne or Sphagetti pasta al dente (cooked but hold its shape well) in salted water. I used  2 handful of sphagetti pasta for this dish.
I used pressure cooker method and Pasta was done in 3 whistles.
Drain pasta and reserve some pasta water for cooking. Wash pasta in cool water at once and mix it with some olive oil to make it non-sticky. Oiling might be needed if you make pasta well in advance.
Add 2 tblspn of cornflour and 1/2 cup of milk. Mix well without lumps.
In a sauce pan, add 1 tblspn butter,simmer the stove once it is melted.
Add the corn flour mixture and a cup of pasta water (cooled preferably) into it.
Stir well for 3 min, add 1 cup of milk,2 cheese slices (Amul cheddar cheese is what I used). You can use 1.5 cheddar cheese cubes/2-3 tblspn of parmesan grated/mozarella grated instead. Increase to a medium flame.
Let it thicken to a creamy sauce. If needed, ass some more pasta water until the corn flour raw taste goes off.
Add cooked pasta now.
Add first round of salt, pepper, mixed herbs, chilli flakes as needed for the pasta.
Remember that the Pesto is yet to be added and that has salt pepper too.
Switch off the stove and finally add pesto sauce after removing from heat. Adjust salt and heat accordingly.
Garnish with toasted pine nuts and fresh basil leaves.
Serve it warm. Pesto loses its colour and darken if cooked over stove for longer and hence, the traditional recipes use fresh Pestos as such. I found that is the best way for me too.
Traditional recipe uses Parmesan cheese, as per easy availability, you can use any cheese suitable for Pasta dishes.