Preparation time

5 mins

Cooking time

10 mins

Difficulty

Serves

1 people
Meal course

Posted on

April 17, 2018
4 no.

2 tspn

1/2 tspn

1/4 cup

2 tspn

2 tspn

3 no.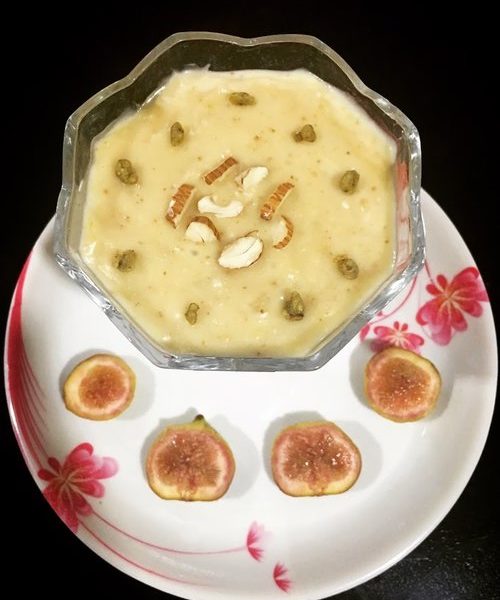 Fig and honey pudding is an easy dessert with freshness of figs and tastes good both cold and warm. Fig,especially the fresh ripe one is useful in improving hemoglobin and good for anemia. This will be good for kids and has no added sugar.
Method:
Roughly grind 4 ripe figs and pour it in a small vessel.
Add 1/4 cup of fresh cream. I used Amul low fat fresh cream.
Add 2 tspn of corn flour mixed with 2 tspn of water into it.
Add cardamom powder and any nuts powder you prefer.
Add 1.5 to 2 tspn of honey as per taste.
Cover the vessel and place it in a steamer.
I used usual idly steamer filled with enough water and placed a porous plate(used for steaming idiyappam or veggies).
Place the pudding vessel on top of it and cover it tightly with another plate .
These processes will not allow the water drops entering inside while steaming.
Else you can directly place the pudding vessel in the pan and make sure to drain the water after steaming is done. (At your own risk).
Steam for 10 minutes on high flame. I used induction stove with 800 W (1300 deg). You can extend the timing till you need required thickness.
It forms a thick creamy mixture similar to a custard/mousse.
Switch off and cool it down.
Serve warm or refrigerated. Pudding thickens as it cools down. Enjoy for a snack or dessert.
Make sure the figs are totally ripe. Otherwise pudding turns a bit bitter.
Alternatively, you can use dried figs 5-6 soaked in warm water for an hour or until it turns soft.