Preparation time

45 mins

Cooking time

30 mins

Difficulty

Serves

9 people
Meal course

Posted on

January 26, 2016
3 cup

1/3 cup

3/4 cup

1/2 cup

1/4 cup

1 cup

3 pinch

1/2 cup

1/2 pinch

1 pinch

4 Strands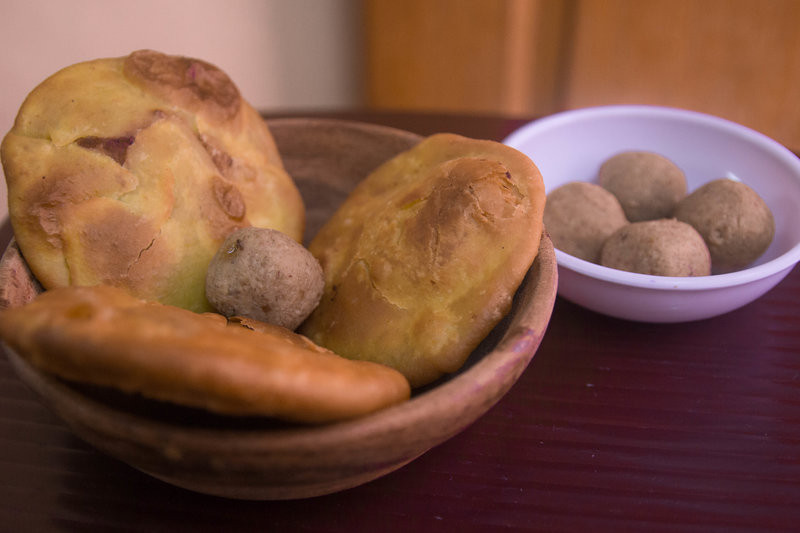 Sweet Kachori can be a rich and easy evening snack. It is usually made with ingredients like koya,milk,nuts and sugar syrup. I did not go for a very sweeter version but replaced the sweet part with  Karamani and green gram,jaggery and coconut puran. The measurement here gave me 9 kachoris and 11 purans. It depends on the cup size and puran sizes can be matched as per kachori numbers.
This includes 3 parts- dough,pooran and sugar syrup.
Dough:
Mix 1 cup of maida with 1/3 cup of liquified ghee,few drops of gingelly oil, a pinch of salt,a pinch of turmeric powder. Add water little by little until you get a smooth dough, not sticky at all.
If you want a more sweeter dough, use milk instead of water and add a tablespoon of sugar too.
Leave it covered for 30-45 minutes.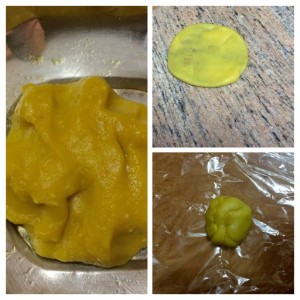 Puran:
This puran is similar to that we do for a paruppu poli. No soaking of karamani or pachai payaru is needed.
Take a 3/4 cup of karamani and green gram (combined). Pressure cook for 2-3 whistles.
It should not get smashed but just done. Drain the water completely and let it dry for few minutes.
Grind them with 1/2 cup jaggery, 3/4 cup of scraped coconut,caradamom powder(elakkai) smoothly.
No water is to be added. It will be non-sticky at last and you can roll into balls easily.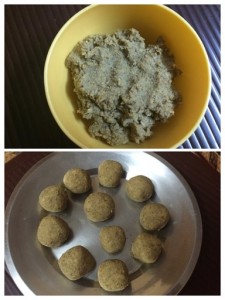 Method:
Take a small ball of dough and press it with hand into a small disc. Keep a ball of puran in the centre and cover it without any gap or tear.
Press it along the centre and make it to a small disc (again with hand). Puran should be well stuffed.
Heat oil and fry it similar to poori. It would be good if it is more thicker at the centre.
Do not worry if it does not raise fluffy. It will taste good if crunchiness retains. Keep it until it until the oil sound subsides and it turns brown.
Drain it and serve hot. I had it along with some crushed purans. You can have it with sugar syrup poured on top or with sweet red sauce used for Kachoris.
Sugar Syrup:
Take sugar as required as per the number of kachoris. For 2 kachoris, I used 4 tspn sugar, a little water,cardamom powder and 4 strands of saffron.
Let it dissolve and thicken into a syrup. It will take approx 5-7 minutes.
Pour it along with left over crushed purans on top of kachoris and enjoy.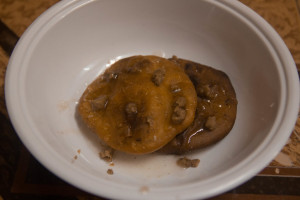 You can add powdered nuts instead of crushed purans
A pinch of baking powder in the dough helps it to raise more easily