Preparation time

10 mins

Cooking time

10 mins

Difficulty

Serves

4 people
Meal course

Posted on

April 21, 2018
1/2 cup

1/4 cup

3/4 cup

1 cup

1 tspn

2 tspn

3 tspn

1 tspn

1 tblspn

1 tblspn

2 tspn

1 no.

1 tspn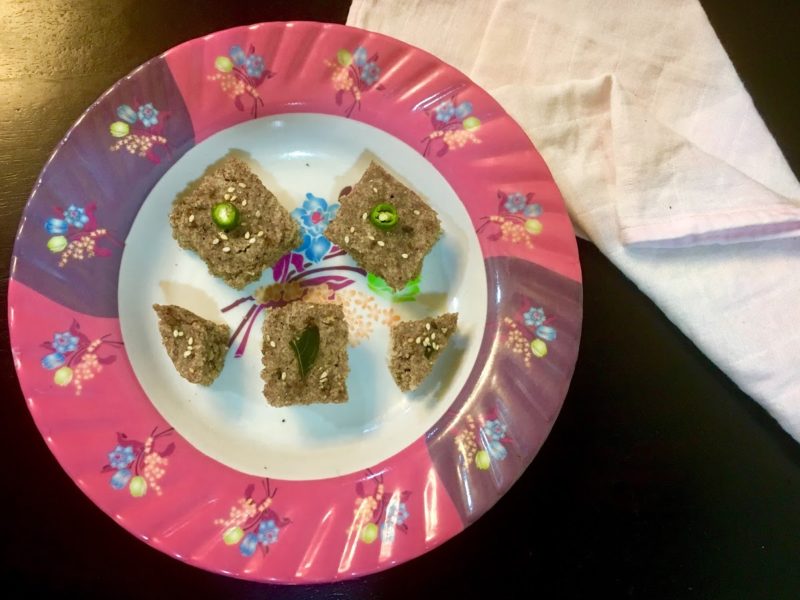 Dhokla is a Gujarati dish made generally with gram flour or suji or fermented rice flour. Now there are many extra healthy variations available. This is one such including different types of millets Ragi (finger millet), Kambu (Bajra/pearl millet), varagu (Kodo millet). It is fibre-rich,loaded with minerals and good for diabetic especially.
Method:
Dry roast a handful of kodo millet till it turns crispy (around 5-7 min). Grind the millet finely into a powder.
Add 1 cup of Rava, 1/4 cup of sprouted kambu flour, less than 1/4 cup of sprouted ragi flour,2-3 tspn of varagu flour. Alternatively, Other than 1 cup of rava, you can split the millets flour to 3/4 cup whichever is preferred.
Add 1 cup of curd to the mixture.
Add 1 cup of water to the batter slowly mixing it uniformly.
Add required salt to it.
Keep it aside for 5 minutes.
Apply generous oil on steaming plates ready for pouring dhokla.
After 5 min, add 1 tspn of Eno fruit salt into the batter. It starts foaming at once.
Pour the batter into plates and set it for steaming. I used Idly pan.
Dhokla  should be done in around 10 minutes and you can check it when the spoon or stick comes out clean after insertion.
Allow it to rest and pour tempered (dhadka)  jeera,sesame,curry leaves,chilli,hing spluttered in oil or ghee.
You can also add coriander and coconut on top of dhokla.
Serve it hot along with green chutney,Tamarind chutney or peanut chutney.
Instead of sprouted flours, you can use plain ragi and bajra flours too. Apart from Kodo millet, other millet flours can also be added alternatively.