Preparation time

30 mins

Cooking time

35 mins

Difficulty

Serves

2 people
Meal course

Posted on

November 22, 2015
1/2 cup

1/2 cup

1 no.

7 no.

8 tspn

1 cup

1 cup

1 no.

10 no.

1 cup

8 pieces

2 inch

1 1/2 cup

3 tspn

1 tspn

1 tblspn

1/4 cup

2 tspn

2 tspn

2 tspn

3 cup

4 tspn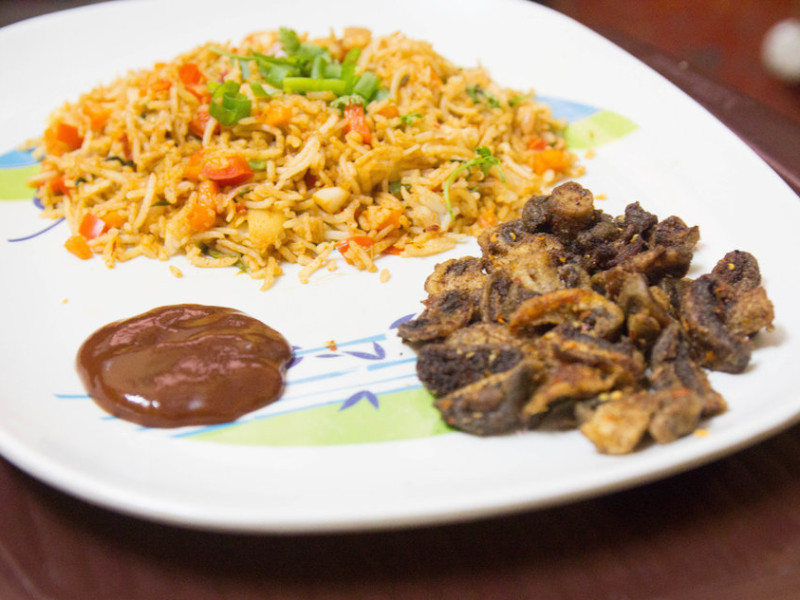 Nasi Goreng- Indonesian fried rice turns out to be fragrant and flavorful unlike the usually bland fried rice. Their authentic recipe is never made without sea food and eggs. But we don't miss out anything and do this just with veggies. You might come across unusual condiment names here. Do not worry, the simplified process is here. Ingredients are well known to us.
The actual twist lies with the two ingredients- Kechap Manis and Sambar oelek, along with ground coriander& lime juice.
Kechap Manis (Sweet soya sauce):
Mix 1/3 cup of soya sauce with 1/2 cup of palm sugar.
Add 1 crushed garlic clove and 1/4 of 1 star anise piece into the sauce.
Heat it in a pan and simmer after it starts boiling for the first time.
Let it reduce, palm sugar dissolves and the sauce turns to a consistency similar to that if honey.
Switch off and strain it with a more porous filter, probably the one used to filter tamarind or thick jaggery paste.
Be  careful not to make it more thicker or burn it.
You can prepare this overnight. Dilute a little and store at room temperature.
The taste as such will be tough to tolerate, but just check if the saltness of soya sauce is reduced and sweetness dominates at last.
Sambar Oelek (Red chilli paste):
This is actually prepared with fresh red chillies. In case if you get it, you can use just 3-4 chillies.
But I used only dry red chillies as it is readily available everyewhere.
Soak 7-8 red chillies in water overnight after removing seeds.
While preparing, just use the chillies and pour water out. Preferably use gloves before doing these or wash your hands well after grinding. These are really hot.
Grind into a coarse paste with  1-2 pinch of salt, lime juice from half lemon.
Method:
Soak the rice in water for 20 minutes. Cook it for 2 whistles with around 3 cups of water.
Do not use any laddle to break the rice when hot. Preferably use hands after it is cooled down completely.
Meanwhile, in 2 tspn of oil, add finely chopped carrots, chopped cabbage and red pepper in order with 1 minute tosses in between. Add 1 tspn of salt.
Add spring onion and keep the veggies aside.
Now, you can either make the rice in 2 batches for uniform mixing or add 1/2 portion of rice first and adjust the other ingredients after that.
Add sesame oil, toss shallots till it softens. Crush ginger and garlic well in a mortar. You can also use fresh ginger garlic fine paste. Look to it, this is the essence of the dish and be generous in adding the combo even more if preferred.
Add vegetables, rice and toss them once. Do not add salt for now.
Add sambar oelek paste, 2-3 tblspn of kechap manis.
Add 2 spoons of coriander powder and 1 spn cumin powder. You can increase the coriander powder if needed.
Add 1 spoon of tomato ketchup, 1-2 tspn red chilli powder and mix well.
Add the remaining rice if you are making it in a single batch. Halve the ingredients mentioned above for 2 batches and adjust as per taste.
Now add salt of some 2-3 spoons after checking the taste.
Mix coriander leaves and pour lime juice from one lemon. Mix well and remove from heat.
Mixing process should be as quick as possible. Take care not to crush or break the rice when doing it.
Yummy Nasi Goreng is done. You can also top it with roasted peanuts at last.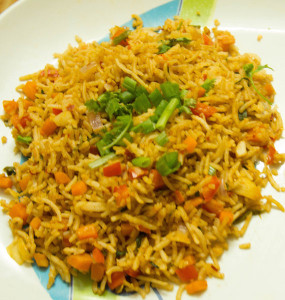 This can be had along with a gravy,sauce,chips or even with crispy veggies. I made some quick mushroom fry with salt and chilli flakes which actually is the substitute of any meaty element with it.
This dish looks simple colored fried rice, but the flavour makes it completely different and the process becomes easy by practice.
You can increase or decrease Kechap manis and ground coriander. But use at least the mentioned amount of ginger-garlic paste,sambar oelek and lime juice for better taste
You can even get readymade Kechap manis in some Asian stores, you can use that.
Can use brown sugar or naatu sakkarai instead of palm sugar.