Preparation time

15 mins

Cooking time

20 mins

Difficulty

Serves

3 people
Meal course

Posted on

February 21, 2016
1/4 bunch

1 handful

3 tblspn

2 tspn

2 tblspn

3 tspn

4 tspn

1 cup

1 tblspn

1/2 tspn

3 no.

1 tspn

1 tspn

1 tspn

1 tblspn

1 inch

2 tspn

6 no.

4 no.

5 cup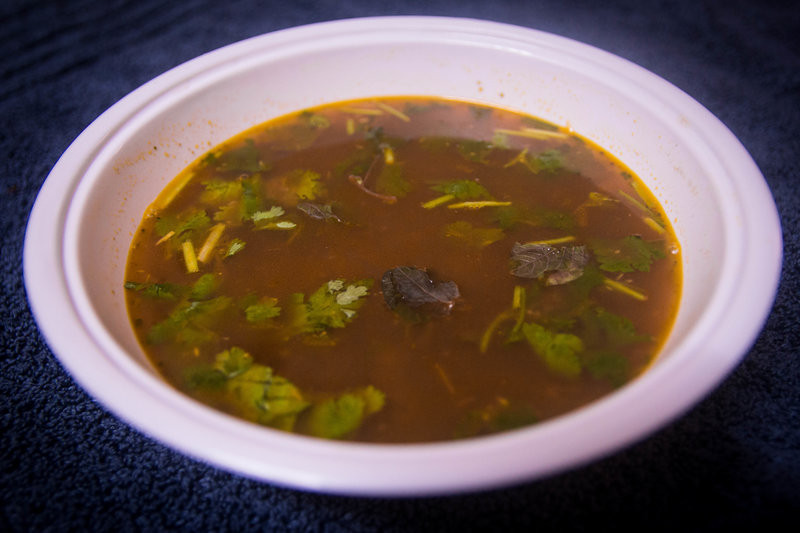 Milagu thanni soup is a similar preparation as that of simple rasam with more of pepper powder. Red mulai keerai is a good source of dietary fibre and helps in curing digestive disorders and skin problems. This as a keerai kootu might give a weird sweet taste. I tried making it as the stock for milagu thanni soup and it turned out to be so good. This soup is good for clearing cold.
Method:
Keerai Stock:
Wash and cut 1/4 of a big bunch of Red mulai keerai (amaranth). you can include the stem too.
Add the leaves and 4 cups of water in a pan.
 Add 2 tblspn moong dhal in it.
Let it boil for 10 minutes. Strain the red water after that.
It should have reduced to around 3 cups.
You can use the keerai for kootu or poriyal.
Masala powder:
Dry fry the following ingredients in the same order for around 5 min until it releases aroma and turns golden.
Coriander seeds,Cumin seeds
Toor dhal,Bengal gram
Cinnamon,Vendhayam
Dry red chillies,Coconut-scraped
2. Make the powder after it is cooled.
Soup:
Add 2 tspn of oil in  pan  with mix crushed garlic (4 no.s),peeled small onions (6 no.s).
Add tomato and this gets soft within 3-4 min.
Add the keerai water,tamarind juice in it along with masala powder.
Add needed salt, 1 cup water and let it boil for 5 more min.
Add pepper powder as per your spice level.
 Add lemon juice and coriander leaves, switch off the stove.
You can add some more water if needed and increase lemon juice or pepper powder accordingly to maintain the taste.
Alternatively, you can use any naatu keerai to make a green soup.