Preparation time

10 mins

Cooking time

10 mins

Difficulty

Serves

1 people
Meal course

Posted on

November 18, 2017
1 cup

1 no.

1 tspn

1/2 cup

1/2 cup

1 tspn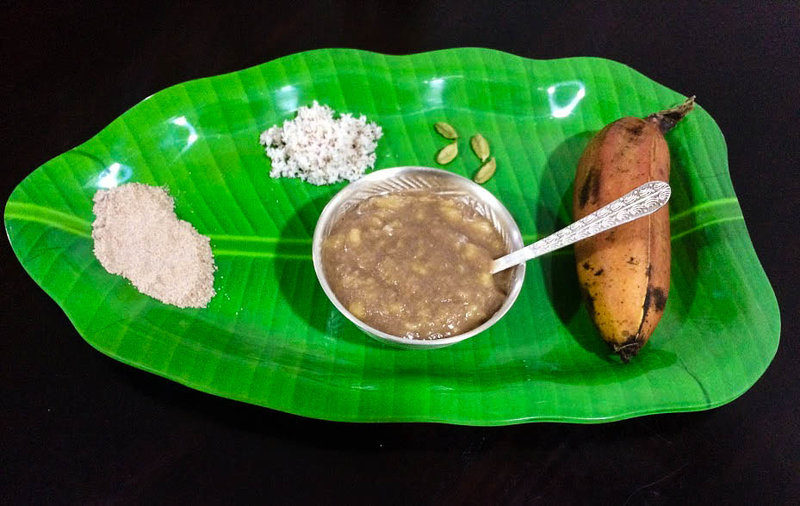 This is a tasty and healthy baby food made with nutritious red rice with no sugar/salt added to it. This is not only for babies, even toddlers and adults would like this as a comfort food.
Method:
Red rice powder:
Take a cup of red rice in a thick bottom pan.
In low flame, dry roast it for around 5 minutes or until there is a strong aroma and the rice can be broken into two easily.
Cool it and grind into a fine powder. You can use required amount for porridge and store it in air tight container.
Porridge:
Add 2.5-3 tspn of red rice powder in a vessel.
Add 1/2 cup water and stir well in low or medium flame.
After 2-3 minutes, add 1/4 cup of coconut milk and a pinch of cardamom powder.
 The porridge thickens immediately in 1 or 2 minutes. You can also add a tspn of ghee and switch off the stove.
Tightly close the vessel for 3-4 minutes.
It should be completely done. Add half a banana mashed to the porridge and feed it lukewarm to the baby with a sterilised cup.
I used red banana. If you use any other variety, quantity can be adjusted as per the shape of the banana. Hill banana,nendhran(steamed),rasthali are some of the good varieties for babies.
If needed, you can add some more coconut milk to adjust consistency. Do not keep the flame high at any point.
Yummy red rice porridge is ready to be fed to your little one. This can be given as a meal at any time preferably breakfast or lunch.
You can also add steamed and mashed half apple instead of banana. Make sure the apple is sweet.
Almond powder (soaked in water, skin peeled,dried and made to a fine powder),cashew powder(slightly roasted and powdered) can also be added to the porridge.
If you are fine to use half a cup of jaggery or palm jaggery water, that can be added instead of fruit which makes it a perfect Kerala style kheer.