Preparation time

3 mins

Cooking time

10 mins

Difficulty

Serves

1 people
Meal course

Posted on

December 18, 2017
1/2 tspn

1/2 tspn

2 no.

2 no.

1/4 cup

1/4 inch

1/4 tspn

1 tspn

1 cup

1/2 tspn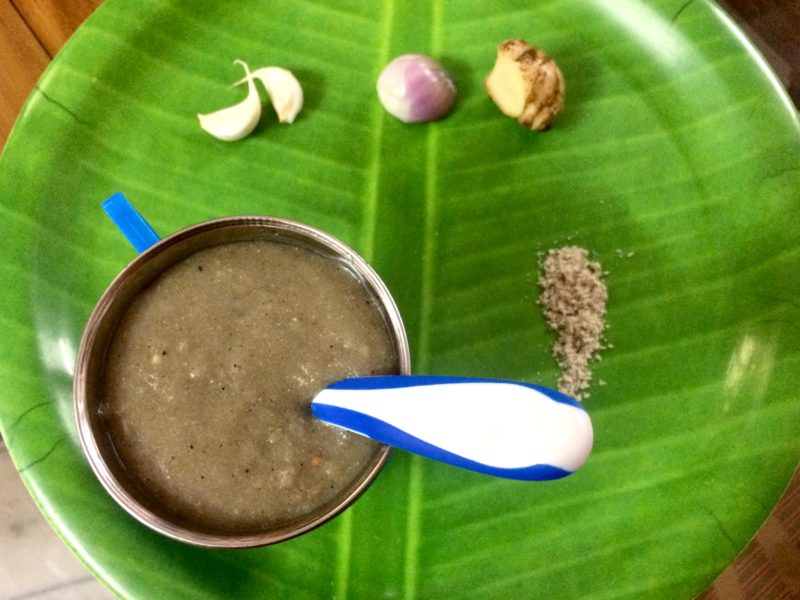 Kambu or pearl millet /Bajra is one vital ingredient for baby nutrition loaded with Iron and essential nutrients. This recipe is good for babies with cough and cold.Usual porridges made using bajra are sweeter versions using jaggery/palm jaggery or dry fruits. This one is an exciting savoury version that tastes more like a soup and simpler version of Adult's Kambu koozh.
Method:
Grind 2 small onions,2 garlic cloves and 1/4 inch of ginger into a paste with very less water.
Add ghee in a pan and toss the above paste until it is cooked and raw smell goes off.
Keep in low flame and add 1/4 cup of bajra flour and mix it without lumps using 1/2 cup of water(room temperature).
Stir for 2-3 minutes and add some more water ,say 1/2 cup and get a thicker consistency. The porridge gets cooked and turns to a darker black colour.
This might take 5-10 minutes. Once it is completely cooked, add 1/2 tspn of omam/ajwain powder,1/4 tspn of pepper powder,a pinch of rock salt or indhuppu (optional).
You can also add 1/2 tspn of jeera powder.
Serve the porridge lukewarm as accepted by your baby. This is a wholesome breakfast for babies and toddlers too.
You can add vegetable puree or spinach puree to this.
Do not use hot water for mixing the flour as it easily form lumps. Use boiled water cooled to room temperature for smooth consistency.
Small onions can be replaced with 1 tblspn of bigger onions as well.
If babies have started with curd, you can add a spoon of curd at last which makes this good as summer food too.
Coconut paste can also be added for extra flavour.