Preparation time

15 mins

Cooking time

40 mins

Difficulty

Serves

3 people
Meal course

Posted on

September 21, 2016
2 no.

3 cup

3 no.

4 no.

1 cup

1 no.

2 tspn

3 tblspn

1 tspn

1 tblspn

2 tblspn

3 tblspn

1 tspn

2 tspn

4 cup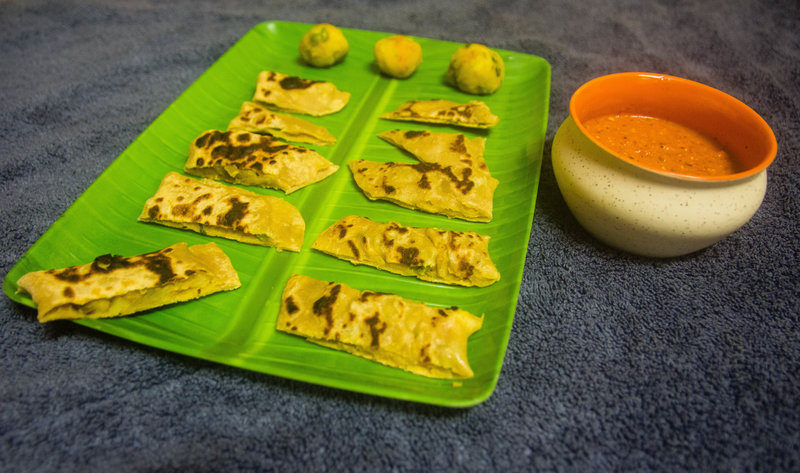 Stuffed roti is a simple mixed vegetable paratha as smaller pieces. It does not need a complicated side dish and an Indianized red capsicum dip is enough. Red capsicum is otherwise mentioned as red bell pepper. This dish can be a snack or main dish based on the numbers and kids will relish it a lot.
Method:
Stuffed roti:
For the stuffing:
Boil peeled potato,carrot pieces and green peas with just enough water and salt.
After 3-4 whistles in pressure cooker, cool them down.
Drain the vegetables and smash it completely. Pat it dry for sometime.
Add salt and red chilli powder to the smashed vegetables.
You can also add coriander powder or garam masala for extra taste.
Roti bits:
Add 3 cups of wheat flour, enough water,2 tspn salt and few drops of oil to a smooth dough.
Leave it closed for 5 minutes.
Roll the dough into a medium size circle.
Add the stuffing for half side of the roti. Close it with other half safely.  |)
You can close it tightly with water at the edges.
Add few drop of oil in tawa and place this roti.
Flip it after 2 minutes. It can be slightly brown and stiff.
If you use more oil, it will become soggy. So use less oil possibly.
After it is done, remove from the tawa and cut into smaller pieces as given in the picture.
Red bell pepper(capsicum) dip:
Add 2 red capsicums into smaller pieces.
Add 2 tspn of olive oil in tawa.
Add 4 garlic pieces and red capsicum pieces in the tawa and simmer.
Toss them until it get softened and slightly brown.
Cool it down completely.
Grind them into a smooth paste along with salt,1 tspn mixed herbs and chilli flakes.
After transferring to serving bowl, add 1 tblspn of curd for a creamy consistency.
Adding sour cream or cheese will be so much authentic but I wanted to avoid them and use an easily available ingredient.
This will be a fulfilling spicy, healthy evening snack or can be a dinner.
Lemon juice can be added for red capsicum dip to get extra punch.
You can add any vegetable which the kids hesitate to eat.
The stuffing should be very dry so as not to come out of the roti bits. It should be rollable without being sticky, as shown in the picture.