Preparation time

10 mins

Cooking time

10 mins

Difficulty

Serves

3 people
Meal course

Posted on

December 11, 2015
1/2 inch

3 no.

2 tspn

2 1/2 cup

1 1/2 cup

1 tblspn

1 no.

0 as required

0 as required

1 pinch

1/2 cup

1 tspn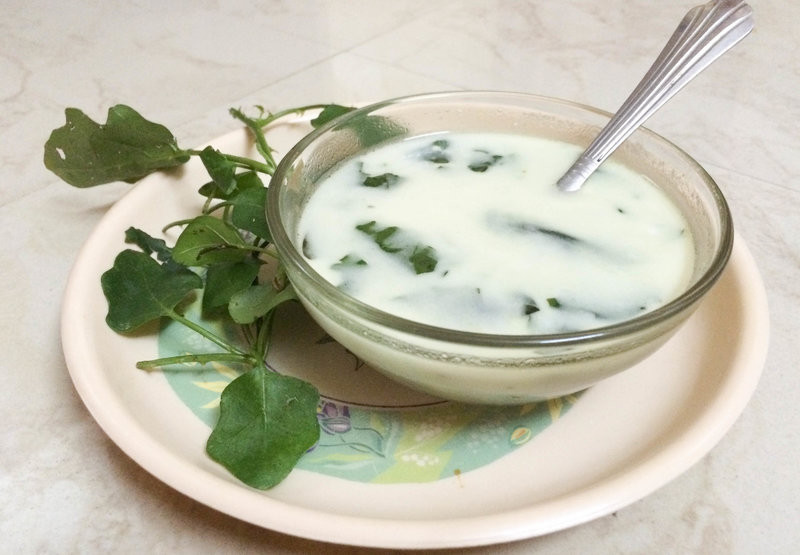 Thoothuvalai is a thorny herbal green which is traditionally used in South India as a medicine for cough and cold. The traditional forms are very well available as rasam,thuvaiyal,etc. I have tried this version of thoothuvalai leaves creamy soup. A healthy combo which improves your immunity and much needed during rainy days/winter. Kids to elders those who hate bitter food would love. The essence of it is completely retained and even if they avoid leaves, the nutritional benefit will be there in the form of coconut milk.
Method:
Take a handful of thoothuvalai leaves. Cut and remove bigger thorns.
Extract 2 and half cups of coconut milk – 1 cup first milk, 1.5 cups thinner milk.
Mix 2 tspn of corn flour in 1.5 cup of thin milk ,without lumps.
Add 1 tblspn butter and add crushed garlic, 1/2 inch of ginger and 1 split green chilli. Saute till raw smell goes.
Wash the leaves well and add it to the pan along with ginger,garlic,chilli.
Add 1 spoon of ghee and fry thoothuvalai till it turns dark green and shrinks to 1/2 part.
Add 1/4 cup water and boil it till it softens some more for around 2-3 minutes.
 Add  1 cup thick milk and simmer completely.
Leave aside for 3 more minutes. Stir continuously to avoid curdling.
The bitterness of leaves would have reduced to half by now.
Remove the green chillies. Add rest of the coconut milk+corn starch.
Add a pinch of turmeric powder to increase the flavour.
Stir until the leaves are completely softened. Add needed salt and pepper powder.
This soup has a mild taste and will remind you of having a Kerala stew or a Thai soup.
You can increase corn starch amount if you need more creamier version.