Preparation time

15 mins

Cooking time

30 mins

Difficulty

Serves

2 people
Meal course

Posted on

September 4, 2016
5 cup

1 tspn

4 tspn

2 tspn

2 pinch

7 no.

1 tblspn

2 tspn

2 tblspn

2 tspn

4 tblspn

1 tblspn

4 tblspn

2 tblspn

3 tblspn

1 1/2 cup

1 bunch

4 no.

1 pack

1 tblspn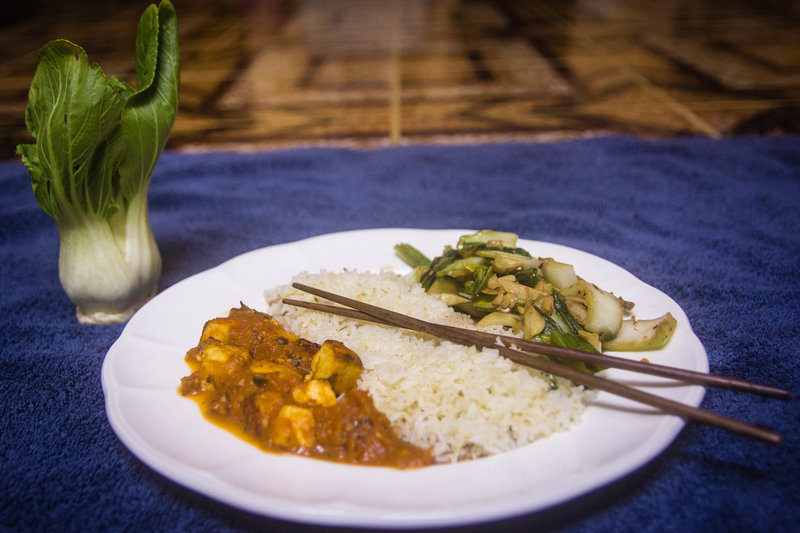 This is a rich platter with goodness of leafy Bok choy, richness of paneer and exciting option for lunch or dinner.
Method:
Rice:
Cook 1.5 cups of Jeeraga Samba rice with 3 cups of water for 2-3 whistles. Rice should not be sticky.
Let it cool until you serve.
Before serving, take half the portion of fluffy rice and add  2 spoons of butter in a pan.
Add some salt and mixed herbs,toss them all  quickly.
This is good for one serving.
Paneer gravy:
Add 4 tomatoes in a pan and let it soften.
Cool it and grind into a smooth paste with 1/2  cup of water.
Add  a pan of oil,1 spoon ginger garlic paste,tomato paste,required salt,red chilli powder and cardamom powder.
Add 1 tblspn of kasuri methi leaves. Let the paste boil and thicken for 2 minutes.
Add 1 tblspn of tomato ketchup adn some dry basil leaves if available.
Let it cook for 10 more minutes. Adjust water as per thickness needed.
It can be bit watery until you add paneer.
Fry  1.5 cups of chopped soft paneer in 1 tblspn butter until golden brown on all sides.
Add them to the gravy and let it simmer for another 5 min.
Add coriander leaves and keep it aside.
Bok Choy Stir fry:
I have used one bigger Bok choy and separated the leaves.
If you get baby Bok choy (Pak choi) leaves, it will be more tasty. You can use 2-3 bok choy bundles(similar to the one shown in the image).
Chop them to medium slices. The base white portions can be chopped to smaller portions.
Thinly slice 6-7 garlic cloves.
Grate thumb size of ginger.
For one serving- split the above ingredients into two halves.
In a pan, add 2 spoons of gingelly or sesame oil.
Add garlic,ginger and fry it until the rawness goes.It need not turn brown.
Add white parts of bok choy first and toss it for 3 min.
Now add green leafy parts and toss it for 2 min.
Add 2 tblspn of soya sauce as such or mix it with 1 tblspn cornflour,0.5 cups of water.
Let it coat the entire batch of bok choy leaves and leave it for 1-2 min.
If you need more sauce, you can double the above amount.
Add 1 spoon of chilli flakes finally. Add salt if needed after checking the taste.
Serve paneer gravy and bok choy stir fry with rice. It is a healthy combo of green leaves, milk product and needed carbs.
This is more like a salad. If you are not a fan of such leaves, you can avoid Bok choy and replace this with some mushrooms, cauliflowers,carrots,spring onions too with more soy sauce.