Preparation time

5 mins

Cooking time

40 mins

Difficulty

Serves

2 people
Meal course

Posted on

March 3, 2021
4 no.

3 tspn

2 tspn

3 tspn

1 1/2 tspn

2 cup

2 tblspn

1 no.

2 Cubes

1/2 cup

3 no.

1 no.

1 no.

2 tblspn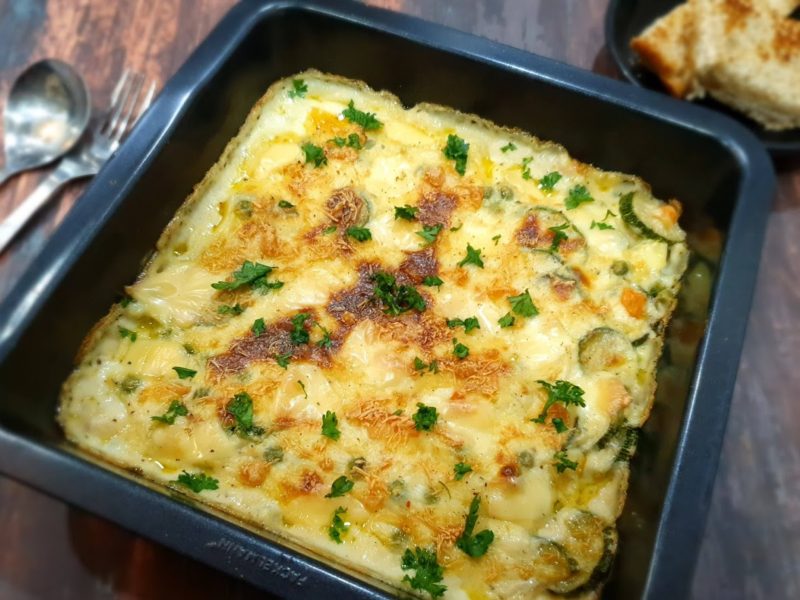 Vegetable Au Gratin is a simple and delicious baked vegetable dish with crunchy crust and creamy mixture of vegetables. This recipe is gluten-free by using corn flour for the white sauce and has a lot of vegetables. This is a cheat day dish and add some amount of cheese at least to enjoy the actual taste. Since it is subtle in taste, it is totally kids-friendly (they need some protein and good fat too). It goes well with any breads.
I have explained convection oven method here.
Method:
In a 2L/3L pressure cooker, add 2-3 tblspn of water, add vegetables-carrot,beans,peas and bit of salt. Pressure bake it for one whistle (OPOS method) on high flame. In induction stove, I used 130 deg for 4 min. Kindly avoid this method if you have not standardised the cooker for OPOS cooking. Release  pressure immediately.
Alternatively you can add just needed water, cook vegetables (in cooker too) and use remaining water for the white sauce. Or just saute all small cut vegetables in oil or butter till they are just cooked and crunchy.
I sauted Zucchini separately with 1 tblspn of butter,salt,pepper,4-5  chopped garlic cloves and mixed dry herbs as it quickly cook and butter roasted zucchini has good flavour. Do it for not more than 3-4 minutes until they are cooked 3/4th.
Preheat convection microwave oven to 190 deg.
Now we can prepare the white sauce. In a dry pan, add 1 tblspn butter. Once it melts, add 2 tblspn of corn flour and saute it in medium flame. Let the raw smell go and it turn slightly golden.
Switch off the flame and remove from heat. Now add room temperature milk and stir well without lumps. Again place it on the  stove in medium flame. Keep stirring gently till it gets a creamy consistency. Add salt,pepper and mixed herbs.
After 3 min, add grated cheese from 1 small cheddar cube (I used Amul).You can avoid this if you prefer a low-fat version. Add a cup of water.
The right consistency of the sauce took around 6-8 min for me on a medium-high flame. Do not boil it too much to avoid lumps. The final sauce will be very creamy and if you draw a line on the back of the laddle dipped in the sauce, it should stay intact.
Add all the vegetables and adjust salt,herbs. Do not make it too salty as we are going to top it with some cheese again.
Pour the mixture on to baking tray, top it with torn cheese slices (from 1 Amul cheese slice), grated cheese from a small cheddar cube. You can adjust cheese amount as per your preference. 
Once the oven is heated, place the tray and bake for 20-25 min. The timing may differ slightly as per the brand/type of oven. The cheese should turn brownish and crusty. Make sure not to burn the top completely. Even if you take it few minutes before once the cheese completely melts, it will still be yummy to have.
Top it with finely chopped fresh parsely or oregano leaves while serving.
Serve it hot with bread or tortilla of your choice.
(Visited 65 times, 1 visits today)
Warning
: count(): Parameter must be an array or an object that implements Countable in
/var/www/wp-content/themes/SocialChef/single-recipe.php
on line
147
For an interesting flavour, you can add a pinch or two of grated nutmeg/jadhikkai which is a common ingredient in baking.
You can add extra water if you need but but heavier flowy sauce should be the final product.
You can add veggies like broccoli,cauliflower,corn,potato,spinach,mushrooms etc.
You can replace cheese with breadcrumbs for a low-fat version. Check the crust browning and stop baking accordingly.
Corn flour can be replaced with all-purpose flour or a thinner whole wheat flour sauce.