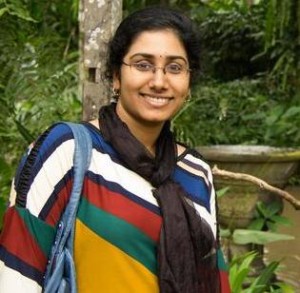 I am Yagna Priya, the author of  Naanveggy from Chennai………!!
Yes, as the name goes, the recipes here are going to stick with Vegetarianism. Being a person who believes "Unave marundhu, marundhe unavu" (Food is the best medicine), I wish to share with you all, healthy and interesting veg recipes I have tried.
Thanks to my mom who taught me  basic traditional south Indian recipes at an early age. I did not stop with that. Being a foodie, I wished to try out all the restaurant dishes @ home. I was then ready to enter my own kitchen after marriage to fulfill this.
Exploration begun there……I got a completely foodie husband like me and he introduced me to several Cuisines. We travel a lot around the world, to explore culture,food and have fun. When your palate asks for something new, something better every time and you don't want to spend money outside……Yes, that's healthy in a way, bring the Veggie world on your own plate, to your own home.
You can check the blog for many forgotten,unusual and unexplored veggie recipes with twists. All these recipes are inspired from many, simplified and prepared in my style, with easily available ingredients in India….Being a working woman, diet conscious (not on weight loss, but on maintaining a balanced diet), the recipes are going to be low-fat and easy versions how much ever possible.
Cook for fun, eat for taste……….But do not forgo health!!!
Follow the recipes @ https://www.facebook.com/naanveggy
Shared with Love………….