Preparation time

10 mins

Cooking time

20 mins

Difficulty

Serves

2 people
Meal course

Posted on

February 1, 2016
1/2 bunch

1 cup

4 no.

5 no.

6 no.

2 no.

1/2 no.

2 tspn

3 cup

2 tspn

1 tblspn

1 no.

1 tblspn

3 tspn

2 tspn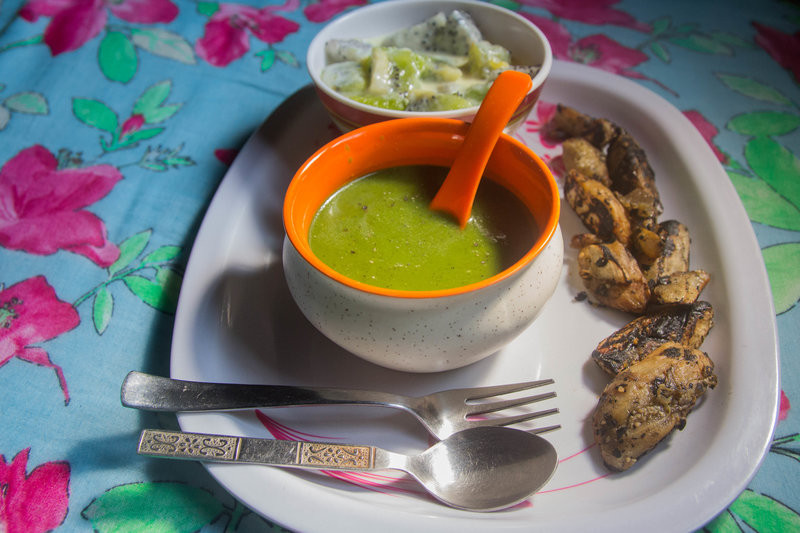 This is a healthy breakfast menu and complete meal, but yes it is light. You have greens,lentils,veggies, low cholestrol fruits,milk in this. A good day to start with.
Spinach-lentil soup is a quick one to be made and healthy combo of spinach and moong dhal. Smoked brinjal uses negligible oil. Kiwi and dragon fruit do not have distinct taste but good for weight loss and has a lot of health benefits from kids to aged.
Spinach lentil soup:
Grind 1/2 bunch spinach (palak),1 cup of cooked moong dhal (passi paruppu),4 small onions with 1 green chilli.
Add oil and some garlic, simmer and cooked the smooth paste adding required water,salt and pepper for 10-15 minutes.
Raw smell goes and gets creamier as required. Ready to serve.
Smoked brinjal:
Cut medium sized rounded brinjals and smoke it in stove over phulka stand until soft. Need not be mushy.
Remove from heat and peel the skin.
Add a tspn oil and toss brinjals with required salt and mixed herbs for few seconds.
Ready to serve.
Kiwi and dragon fruit salad with milk custard:
Cut Kiwi and dragon fruit into pieces. Dragon fruit can be scooped using spoon and cut into cubes. Both do not have distinct taste to be eaten raw,especially kids.
So I am adding milk custard to it. Mix 2 tspn custard powder (I used vanilla flavour) in 2 tblspn of hot milk.
Add this paste to 300-350 ml milk and prepare a flowing custard. Add required sugar as per taste.
Cool down to room temperature and enjoy it with fruits.
(Visited 104 times, 1 visits today)
Warning
: count(): Parameter must be an array or an object that implements Countable in
/var/www/wp-content/themes/SocialChef/single-recipe.php
on line
147