Preparation time

10 mins

Cooking time

25 mins

Difficulty

Serves

6 people
Meal course

Posted on

May 13, 2021
1 no.

1 1/2 tspn

1/2 tspn

1/4 tspn

1 tblspn

3/4 cup

1/2 cup

1/4 cup

1 tspn

1 pinch

1 pinch

1 pinch

1 pinch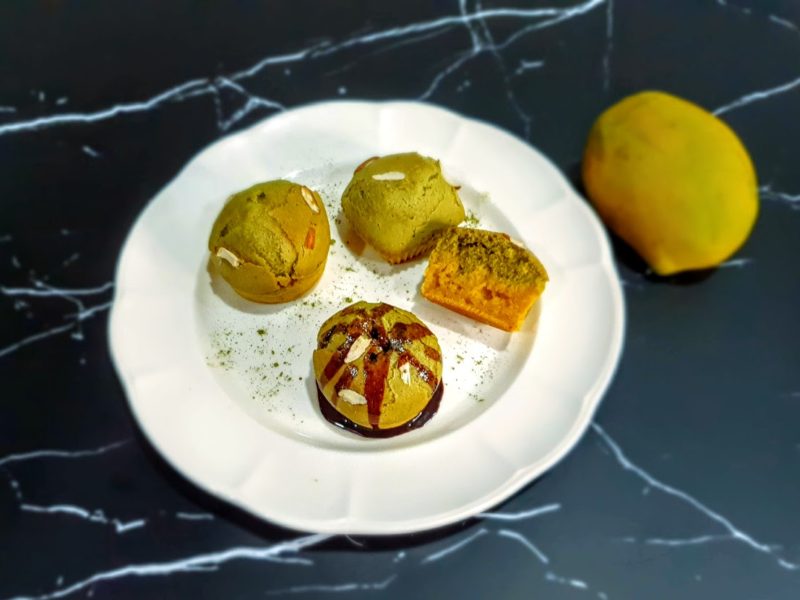 Mango is the best summer fruit and rich in Vitamin A,B and C. Matcha is the best of green teas and a great antioxidant. Both are great immunity boosters and make a perfect combination for a cake. Many ingredients used in this are for good health and immunity. Mango matcha layer muffin is a simple recipe with great colours and flavours. ( Of course it is for Matcha lovers only).
Method:
Prepare a puree of good quality sweet mango without adding water,no fibre around the seed to be used. We would need 1/3 cup of it.
Sift 1/2 cup of wheat flour and 1/2 cup of all purpose flour, 1/2 tsp baking powder,1/4 tsp baking soda,pinch of salt mixture thrice from a distant. This incorporates air and make fluffy cakes. If using only maida, 1 time sifting is enough.
Finely powder 1/2 cup of sugar. Sieve 3/4th of sugar and mix well.
Make a small pit in the centre and add 1/4 cup flavourless oil,1/4 cup milk,1 tblspn curd,1 tsp vanilla essence,mix gently. Add 1 or 2 tblspn of milk if needed.It should be a blobby mixture only.
Meanwhile preheat convection oven at 180 deg C for 10-15 min.
Split the mixture into 2. In one part, add a pinch of turmeric, 1/3 cup mango puree,pinch of dry ginger powder. It will thin out automatically.
In other part, sift 1.5 tsp of good quality matcha without much lumps,1 tblspn milk powder,pinch of cinnamon powder and mix well. Add 2 tblspn milk/water if needed, to match the mango layer consistency.
Please note that it should be of ribbon consistency and not flowy. Else it will mix and does not make proper layer.
If the batter becomes so thin, do not worry then also. You can make a mango matcha zebra cake 🙂
I made 5 large muffins with 2 tsp of each part. A mango layer followed by matcha at the top. Some sliced almonds can be added for crunchiness on top.
You can make 6 medium muffins by reducing the quantity of batter.
Tap it well and bake for 18-20 min until the centre part comes out clean. You can check once at 15 min and decide the time.
Cool the muffins in a rack once done.
Serve it with dark chocolate sauce,berry sauce or have it as such.
You should consume within 24 hours if it is at room temperature. Refrigerated muffins are good for 2-3 days. Slightly warm and have it for bursting flavour.
Beautiful layers of yellow and pale green will be formed. Use of white sugar and 50% maida is for a brighter colour and more fluffiness.
You can replace it with whole wheat flour but sift 3-4 times. You can also replace sugar with brown sugar but the outcome will be a darker cake.
I used only 0.75 part of powdered sugar and found it sweet enough. You can adjust sugar and matcha as per the taste.
Milk powder is added for richness, you can skip it.