Preparation time

5 mins

Cooking time

10 mins

Difficulty

Serves

3 people
Meal course

Posted on

August 7, 2020
3 no.

1 no.

2 no.

4 no.

1 inch

2 no.

1/2 no.

1/4 bunch

2 tspn

2 1/2 cup

1/2 cup

1/2 tspn

1/4 cup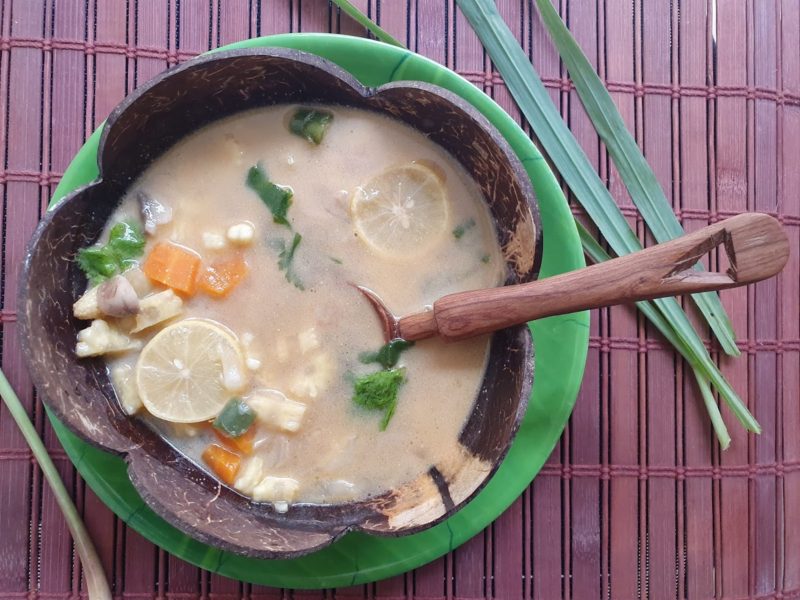 Lemon grass vegetable soup is a simple vegan/vegetarian recipe made within few minutes and makes a healthy starter or a wholemeal by itself. This includes a lot of vegetables of our choice and fragrant fresh lemongrass minimising the cook time. Lemon grass also known as citronella is a very good anti-oxidant,anti cancerous, good for flu and weightloss, has traces of many vitamins and minerals making it a healthy addition to any liquid food very easily.
Method:
Add 1.5 cup of water into a 2L or 2.5L cooker (or any small cooker). Use 2 to 3 lemongrass depending on the size of the stalk (the part below leafy grass). The stalk only has the most flavour, but you can use part of grass too to be cooked. Cut the stalk, pat it with a mortar or hammer slightly and add to the water.
Cook on medium to high flame for 5 min or 5 whistles whichever is earlier. Switch off and let pressure settle. Transfer it to a bowl and keep it covered.
If you do not want to use a cooker, you can crush lemongrass well and boil it with 2 cups of water on high flame for 4-5 min, close with a lid switching off stove until it is to be used.
Chop vegetables like carrot, broccoli,mushroom,beans to a medium size. If using baby corn, slit it into 4 lengthwise as it takes time to cook. Let it come to 1 cup.
Add them in cooker, add 1/4 cup water ,salt,1 inch ginger,2 cloves of chopped garlic,1/2 slit green chilli and cook on high for 1 whistle or 2-3 min.
 Now filter the lemon grass water and add it to veg stock. Add 1/2 cup of thick coconut milk (can be thin milk too but adjust water accordingly).
Adjust the water,salt,pepper as needed and let them simmer in medium flame for 3 min. Add coriander leaves and cut lemon wedges(optional) till it is served.
Serve the soup warm and it makes a soothing drink for sure.
If you dont have fresh lemon grass, replace them with 4-5 tsp of dry lemongrass. Adjust the amount as per the flavour. If the flavour seems less, lemon wedges give the fragrance, you can increase ginger too.
You can skip adding green chilli and replace it with fresh Red thai chilli or chilli flakes.
If you make it a meal, add some cooked noodles at the last stage before simmering.
You can skip coconut milk and replace with corn flour meal or leave it as it is as clear soup.