Preparation time

15 mins

Cooking time

20 mins

Difficulty

Serves

3 people
Meal course

Posted on

May 27, 2021
1 3/4 cup

20 Strands

1 no.

2 no.

2 inch

3 no.

10 no.

10 no.

6 no.

5 no.

1/2 tspn

4 tblspn

1 no.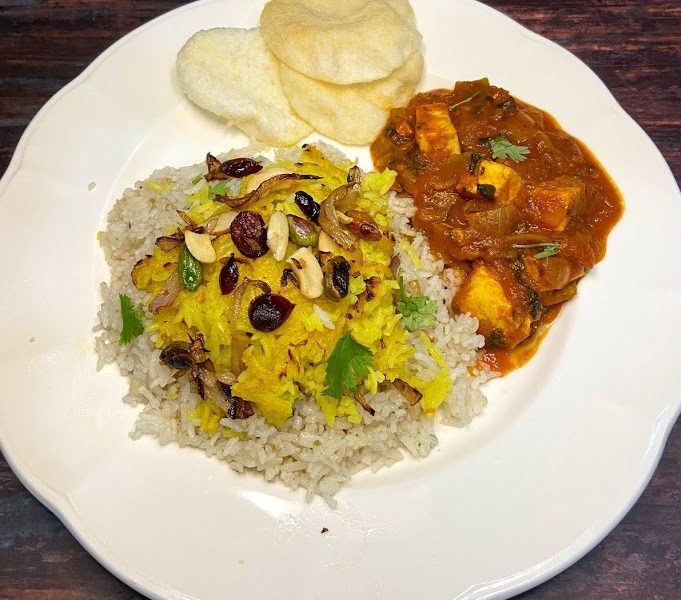 Persian/Iranian Jeweled rice is a rich Pilaf  which is similar to Kashmiri Pulao. It is very easy to make,healthy and can be customised as per available ingredients and taste buds. This is my version of Jeweled rice made in a simple way. It can be made more sweeter too, but I avoided sugar-orange peel and made this completely savoury. This can be an exciting lunch option for kids too.
Method:
Soak 15-20 strands of saffron in 1/4 cup of warm water for  an hour or till you get deep yellow colour.
Cook 1.75 cups of Basmati rice in a pressure cooker with 1:2 water,2 inch cinnamon bark for 2 whistles on a medium flame. It is better to soak rice for 15-20 minutes for more fluffy rice. I have used washed rice directly as well and had no issues.
 Separate 2/3-1/2  part of cooked rice for saffron layer. I used more white rice and used only 2/3 part for yellow rice.
Cool down the rice well, fluff it up without breaking or mushing after it comes to room temperature.
Butter garlic rice:
In a nonstick pan, add 2 tblspn butter. Add 3 cloves peeled and chopped garlic,split green chilli (optional). Add white rice (the major half,non-saffron layer). Toss it well, adjust needed salt, pepper if you need more spice, 1/2 tsp cumin powder.
Garnish with chopped coriander /parsley leaves and store it aside warm.
In the same pan, add 1 tspn of butter. Toss sliced almonds,pistachios,cashews and dried cranberries(add it at the last),raisins(optional) until crunchy. Keep it aside.
Saffron rice:
Mix 2 pinches of turmeric powder to the saffron water. Add it to the remaining part of rice. Add cardamom powdered from 2 pods. You can also add 1 tblspn of yogurt.
In the pan, add 1 tblspn butter and add shredded carrots. After it is softened, add yellow rice mix. Spread uniformly at the bottom, cook it closed.
Increase the flame to medium high and cook for 3-5 min until the bottom turns crispier.
Make sure not to burn them and keep checking it.
Once you get enough crispier rice, you can remove from the flame and transfer them intact.
Add bit of oil and fry onions deep brown and crispy.
Assembling:
While serving, heap more of white butter rice, a layer of saffron rice with crisp part on top, nuts and fried onions.
Serve it warm with curry of your choice and something crunchier like papads.
You can avoid roasting saffron rice if preferred. Roasting makes it similar to another persian rice variation called Tahdig and gives enough texture.
Add pomegranate pearls, simple veggies like green peas as well.
You can also add caramelized orange peels on preferring a sweeter version.