I had a trip to Japan in November 2018. This cuisine has some unique flavours and I would say that's more of an acquired taste. They have a lot of seafood, eggs and meat but vegan/vegetarian options too.
Keep google translators handy while asking for vegetarian menu options, not everyone speaks English.
The first one is Ramen– familiar Japanese main course after Sushi.  It is easier to get Veg or Vegan Ramen at most of the shops but make sure the broth is also vegetarian (without fish seasonings).You also have similar noodles like Soba,Udon made of wheat/buckwheat.
Next is Tempura – batter-fried vegetables. Relish wherever you get without guilt, it is so light and made with  varieties of  unusal ingredients like cherry tomatoes,local mushrooms,egg plant,sweet potatoes.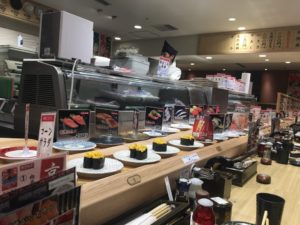 Conveyor belt Sushi shops are so famous and you get to pick from a lot of options. That was quite disappointing for me because vegetarian options were too less than Japanese restaurants in India too. I had mostly corn, egg plant and Fried Tofu. Based on availability, we can get these in common.
Cucumber
Avocado
Tofu
Egg plant
Corn/grilled corn
The dip along with Wasabi makes any Sushi yummy.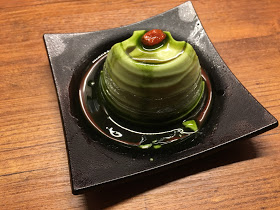 Matcha green tea is a main ingredient in most of the desserts. This is a green tea pudding with almond sauce which I tasted in Ramen restaurant chain Ichiran. You get
sponge cakes
Ice creams
Sweet rice balls kind of desserts made of Matcha.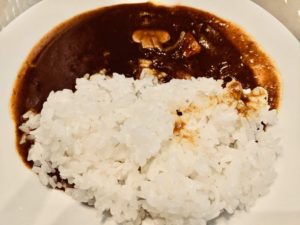 Japanese curry is one of the safest vegetarian options with Japanese sticky white/red rice. Not all restaurants offer it. Prefer staying at hotels offering a breakfast buffet, you could probably get it easily. Else there are restaurant chains like Coco's curry for this. Tastes more like less spicy Indian gravies with vegetables. You may get vegetarian dumplings called  Gyozas and soya meat balls too in some Curry shops. That was a dark picture but the taste of curry is much more than what you see……….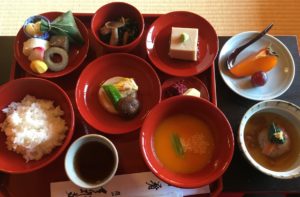 This is Zen vegetarian Kaiseki cuisine, which you can mostly get in larger shrine restaurants. We had this at Tenruji temple restaurant at Arashiyama. It had a variety of dishes with subtle taste, can relish in a peaceful environment. I do not know the names but could identify some of their most common ingredients like sweet potato, pumpkin, mushrooms,horse radish, Tofu and tofu skin, Rice, sauce and some desserts with sesame, persimmon and big globe grape. This IS an experience.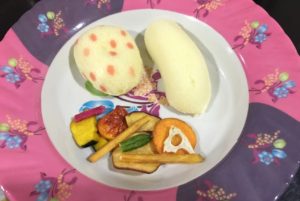 There are a lot of sweet options for vegetarians definitely. The above are Tokyo banana and strawberry cakes,vegetable chips. You get a lot of stuffed buns everywhere with Adzuki red beans,fruits,matcha stuffed in it, many resembling Kozhukatai/Modaks. There are also Melon pans with crispy outer puff layer and sweet stuffings inside. Mochi is a very famous gooey delicacy.
Convenient stores like Lawson,Family mart,7-eleven have various vegetarian options like Onigiri-triangular rice balls with vegetables or pickled fruit fillings and seaweed, grilled rice balls,salads,desserts mostly using egg, sweet buns made of potatoes,sweet potatoes,pumpkin,sesame, red and black bean pastes and much more.
And yes, do not miss Chestnuts too in local shops!
Be flexible, you will get a lot of options to try and you can safely fill your tummy with healthy food.
Happy traveling, Happy eating!