Preparation time

5 mins

Cooking time

15 mins

Difficulty

Serves

2 people
Meal course

Posted on

February 19, 2019
12 no.

1 no.

1 tspn

1 tspn

1 cup

1 tspn

1 tblspn

1 tspn

1/2 cup

1 tspn

1 tspn

1 inch

4 no.

1 tspn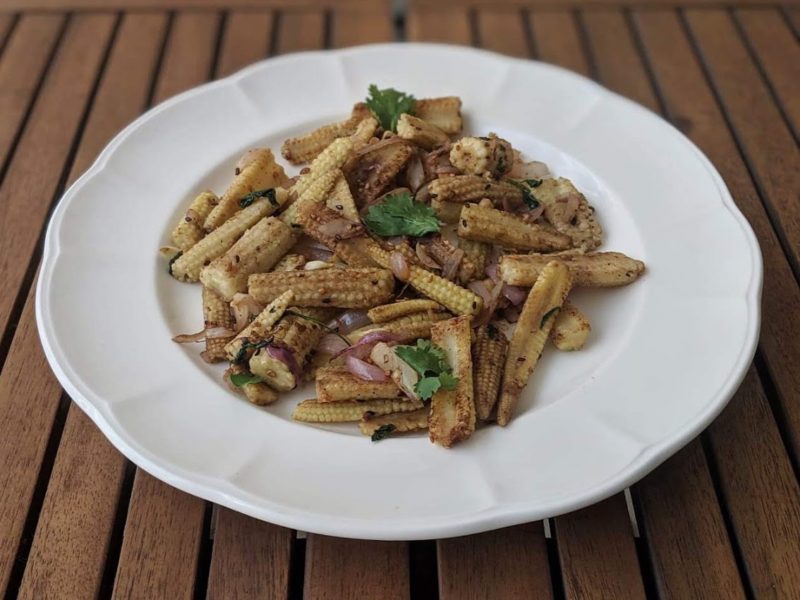 Asian baby corn stir fry is a less oily baby corn starter which can also be a good breakfast or snack. It involves minimal healthy flavours used in Asian cuisine.
Method:
Cut 10-12 baby corns into 2 or 4 based on the size vertically.
Add 1 tspn of salt and pressure cook it with 1/4 cup of water in a small,say 2L pressure cooker for 3 whistles on high. This is basically pressure baking baby corn by OPOS(one pot one shot) method. You can even stop at 2 whistles if you need more crunchier baby corns.
If using a bigger cooker, increase the amount of water,not more than 1/4 part of baby corn filled at the cooker level.
Remove pressure immediately, by inserting a laddle just under the whistle. Be careful not to lift the whistle.
In a pan, add 1 tblspn of olive oil and sesame oil combined equally. Add 1 tspn of white and black sesame seeds.
Keep the flame highest.
Let it get slightly browner. Add 1 cup of chopped onions,cut lengthwise in it. Give a quick toss until it is slightly softened.
Add roughly chopped 3-4 garlic pieces, 1 inch of ginger in it.
Add cooked baby corns, required salt, 1 tspn pepper powder,1 tspn rice flour and toss for 5 minutes till baby corn slightly gets browned.
Add 1 tspn of soya sauce, fresh coriander leaves/spring onions and toss it for 2-3 minutes.
Stir fry is ready to be served. Enjoy them hot.