Preparation time

10 mins

Cooking time

25 mins

Difficulty

Serves

3 people
Meal course

Posted on

April 6, 2021
250 gm

15 no.

1 no.

1/2 no.

1/2 no.

2 tspn

1 tblspn

1 pinch

1 no.

1 tspn

3 no.

2 no.

2 tspn

1/2 tspn

1 no.

2 tspn

1 tspn

2 tspn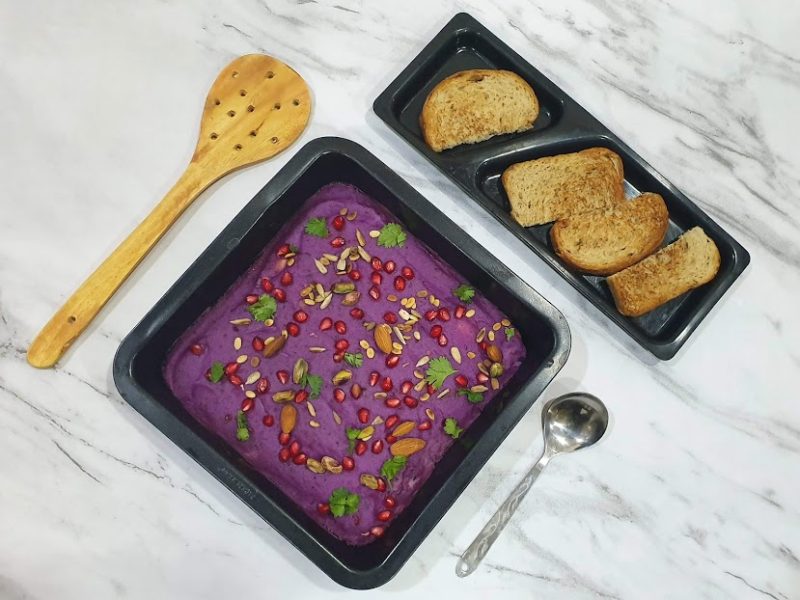 Winter vegetables such as purple cabbage, carrot,beetroot and fruits like apple goes well together and are rich in Vitamin A and C. This baked dish is a modified form of Western purple cabbage soup with spices,creamy with nut milk and selection of fruits and veggies that can be customized as per taste. This purple bake is definitely an acquired taste as it is more sweeter and mild in taste.
Method:
Thinly slice a carrot as circles and 1/2 apple as semicircles. Add 1 tblspn of butter and toss them in the pan for 2-3 min until slightly soft. You can include vegetables like potato and beetroot thinly sliced.
Add 1 pinch of cinnamon powder,1/2 tsp salt and 1/2 tspn of red chilli powder.
Preheat convection oven to 200 deg C. Arrange the vegetables in baking dish after applying oil at the base. Bake it for 10 min until the vegetables are completely soft and roasted partially.
Clean and roughly chop 250g-300g of purple cabbage. Chop 1/2 sweet potato as small cubes.
I pressure baked it in a 2L pressure cooker. For this method, add 1 tsp butter/2 tsp flavourless oil like olive oil. Toss 1 tsp fennel seeds,2 cloves,1 bay leaf,2-3 garlic cloves,1 onion well.
 Add 2-3 tblspn of water, add 15 cashews. Now add purple cabbage as next layer above. Add 1 tsp salt and 1 tsp chilli flakes, 1/2 tsp of apple cider vinegar.
 Add sweet potato as last layer on top. Cook them on high flame (130 deg C in my induction stove) for 2 whistles/6 min. Switch off.  (Check note below for traditional alternative method).
After it is cooled down,grind it into a smooth paste removing bay leaf. It now looks more like blob. Add water till it becomes a creamy yet flowy sauce. Add 2 tsp lemon juice and adjust salt.
Dry mixed herbs can be added now.
You can increase ACV or lemon juice bit more if you need punch. Same goes with hotness too. Pepper/chilli flakes as needed.
Add the sauce on top of baked roasted vegetables evenly. Bake it again for 10 more min at 200 deg till the layer is thickened and gets a dark purple/magenta colour.
Top it with roasted nuts, herbs like coriander/parsley, pomegranate seeds for crunch.
It can be had separately or with soft breads of your choice.
Instead of pressure baking in OPOS method, you can pressure cook sweet potato and cashew separately. In a pan, toss all spices and cook purple cabbage until soft. Do not cook so much so that it discolourates. Vinegar is added to retain maximum of purple colour and give extra sourness.
If you dont prefer too much sweetness, you can skip apple and use iother vegetables alone.
You can replace sweet potato with potato as well in the sauce.
You can top it with cheese while baking along with sauce and bake till the cheese melts down completely.
Replace butter with oil if you need everything vegan.
Do not add milk instead of cashew milk to this recipe as lime and vinegar curdles the milk. You can replace it with almond milk. Or avoid all sourness and citric acid, add cheese and milk to make a rich sauce as a whole.