Preparation time

5 mins

Cooking time

35 mins

Difficulty

Serves

3 people
Meal course

Posted on

March 21, 2021
7 no.

1 no.

6 no.

1 no.

5 no.

2 1/2 tblspn

5 no.

2 tblspn

1 tspn

1 no.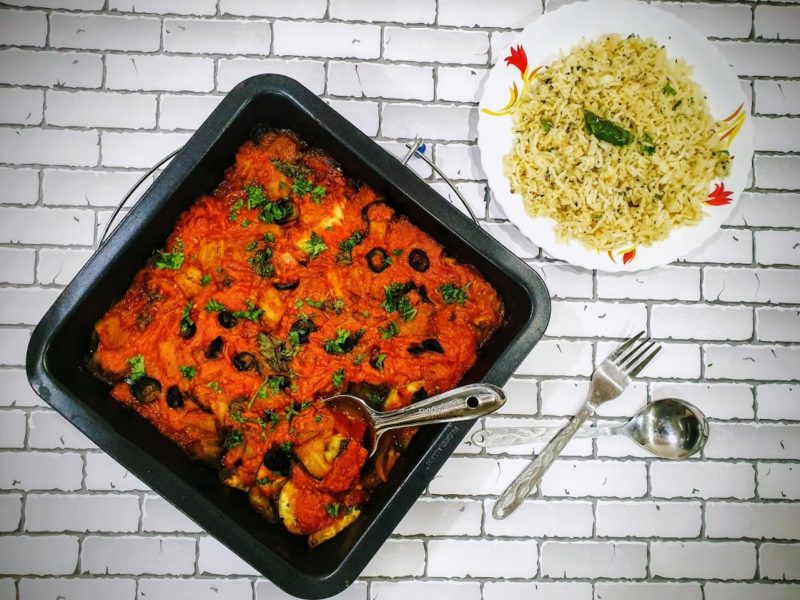 Baked vegetables in Tomato sauce (red sauce) is a yummy healthy bake that includes partial gas stove cooking and baked to perfection in convection oven. This recipe has tomatoes,brinjal and zucchinis as main ingredients. It can served as side for breads, crisps or even had with rice. This dish is inspired by Italian and Greek cuisines.
Method:
Roughly chop 7-8 ripe tomatoes and pressure bake it in cooker on high flame for 3 whistles with 3 tblspn water,1 bay leaf and needed salt. If not, you can cook it till soft in a kadai for 3-5 minutes in medium flame. Let it cool.
Meanwhile, cut brinjals as bigger chunks and add salt to it. Let it stay for 10-15 min. This helps in removing any bitterness, water and cook quickly. You can either use 1 bigger eggplant/Aubergine or usual brinjals.
Preheat the convection oven for 200 deg C. That might take 5-10 min depending on the oven and let it stand until we assemble the bake. You can also finish tossing vegetables and preheat if needed.
In a pan,add 1 tblspn olive oil, add 6-7 garlic cloves chopped, 1 chopped big onion and stir until soft.
Add zucchini to it( cut as thin round slices along with skin) and toss it for another 4-5 min until it gets softer. Note that it should not get mushy, just cooked and yet crunchy. Add needed salt for that portion.
Remove it from the pan. Add 1 tblsp of olive oil. Squeeze the water from brinjals and add it to the pan. Cook for 5 min till it gets just cooked and not mushy.Add needed salt.
Grind tomatoes roughly and add salt,pepper/chilli flakes,mixed dry herbs,1 tsp cumin powder,1 tsp olive oil to it. Add a pinch of grated nutmeg powder too for the flavour. (You can skip if you don't have).
In a baking tray, apply 2 tsp of olive oil and add zucchinis, followed by brinjals and tomato paste finally.
Add black olives, any fresh herbs like parsley, oregano,basil if you have. You can add a tblspn of dry herbs too.
Bake in the oven for 20-25 min. I immediately placed the tray once it was heated and took me 25 min for the tomato paste to be bubbling up and brinjal completely softened.
If the oven stays at 200 deg for 10 min before keeping the baking tray, it would be done much more faster. Keep an eye after 15 min in that case.
Not all bakes needed to be added cheese or cream. This is a healthy low calorie bake with vegetables only.
Serve warm with breads/Indian breads, rice or crisps.
You can top it up with Feta cheese or grated cheese if you want it more rich.
You can add other vegetables like cauliflower, broccoli,bell peppers, cooked red kidney beans, green olives and similar light vegetables.
You can also add some chunky tomatoes along with tomato paste.