Preparation time

20 mins

Cooking time

15 mins

Difficulty

Serves

4 people
Meal course

Posted on

December 15, 2020
2 tblspn

2 tspn

3 tspn

4 no.

1 inch

3 no.

1 no.

1 no.

1/4 no.

1/2 no.

1/4 no.

1/4 cup

1/2 cup

1 tspn

2 tspn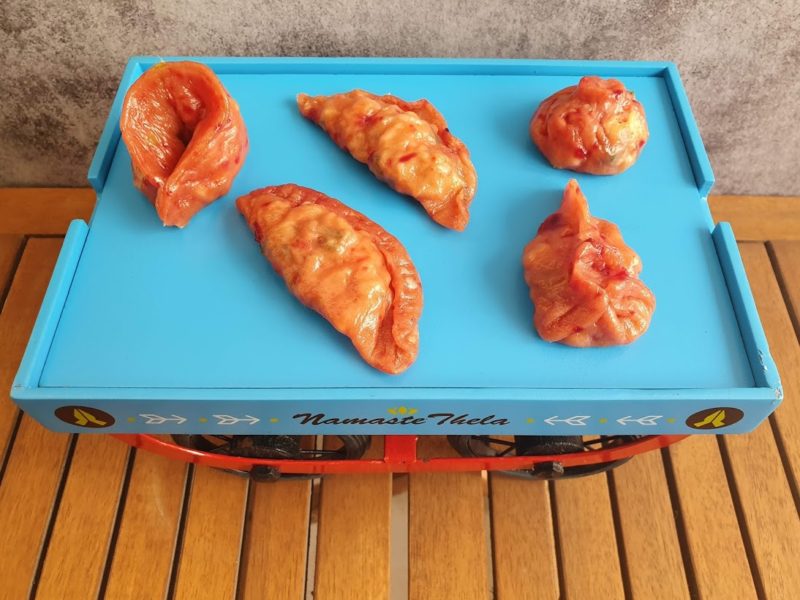 Momos or Dimsums are a favourite starter or snack for many. Though it is time consuming, easy folds, addition of healthy vegetables make it a go to dish. This recipe has a colourful twist with addition of beetroot to the flour and a mix of colourful vegetables, roasted nuts for a protein boost.
Method:
Add 1/2 cup all-purpose flour, 1/4 cup wheat flour, salt,2 tsp oil in a wide bowl.
Grind around 1/4 beetroot very well with 1 tblspn water and use 2-3 tsp of it (or the juice of it alone if you cannot handle coarse texture).
Add extra water to make a soft non-sticky dough. Leave it aside for 15 min.
Finely chop cabbage,zucchini, spring onion,shallots or onion, carrots. Make a coarse ginger garlic paste without water.
Dry roast 1 tsp of white sesame seeds,2 tblsp of roasted peanuts until slightly brown. Cool and grind them into powder.
Add a tblspn of sesame/gingelly oil in a pan and toss all the above well in medium flame. It should be just done and not overcooked. Add salt and pepper as needed.
Cool the vegetables and add sesame peanut powder to them as needed. You can also add some grated cheese. The mixture should be totally dry.
Now make very small- less than a lemon size balls (or lemon size for a bigger momo) out of the dough. Roll it into a uniform thin circle. You can use bit of dry flour as needed while rolling.
You can use a small cup to shape it perfectly if needed. Place a spoon or two of veggies inside. Carefully close them into shape as needed. The shapes tried here are some of the easier folds.
 You can fill the stuffing either horizontally and make the elongated type of shapes. like the bottom two -right. Use a fork to make some pattern. You can fold the two edges and make third shape given above(to the left). Or wrap them up completely and make a round onion-like momo (top-right). First pattern is a mix of onion and elongated momos.
Make sure you cut extra dough while sealing the dough using a knife or cutter. Else that will just be a doughy part with no taste.
If the outer part could not be sealed well, you can apply a thin layer of water by dipping finger into it just like glue only at that part.
Make as many momos as needed. The number depends on how big you make the momos. The dough can be stored in airtight container and used the next day. You can easily get 10-15 momos with this dough.
Grease the steam tray with sesame oil, Place the momos and steam it for not more than 10-12 min. You should see glossy outer covering and some of the stuffed vegetables translucent outside. Overcooking makes the covering hard.
Serve them warm with soya sauce or a spicy dip.
You can add other easily cooked vegetables like mushrooms, corn into stuffing.
You can try different ratios of all-purpose or wheat flours but whole wheat momos are comparatively thicker than white flour momos. The bright colour will be retained on using all-purpose flour better.