Preparation time

10 mins

Cooking time

20 mins

Difficulty

Serves

2 people
Meal course

Posted on

February 11, 2016
2 tspn

2 tspn

4 tspn

1 no.

2 tblspn

10 pieces

1 no.

1/4 bunch

50 gm

1 cup

1/4 cup

2 tblspn

4 no.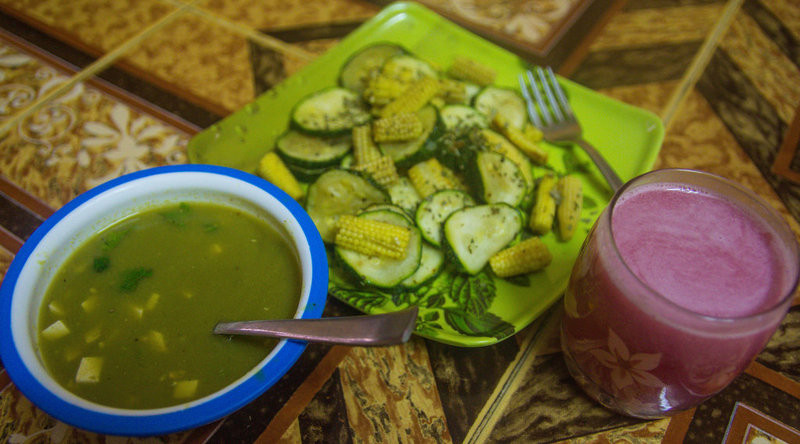 This breakfast menu is best when you are conscious about weight loss or used to a light breakfast/small meal. Green peas is simple and too quick to make. Zucchini and baby corn tossed salad with herbs will be a delight for vegans. Pomegranate lemonade will end this meal in a refreshing way.
Green Peas soup:
Boil green peas in a cup of water. Save the water after it is done.
Cool down and grind peas with 3-4 shallots(small onions).
Mix this paste with the boiled water,salt and pepper.
Simmer and let it cook for 5 minutes.
Add 1 spoon corn flour in a cup of water and mix to it.
Add 2 tspn soya sauce.
Roast tofu with salt and little olive oil. Add it to the soup.
After 5-7 minutes, switch off and add fresh coriander leaves.
Zucchini and baby corn salad:
Add half spoon butter/ 1 spoon olive oil. Add a cup of zucchini pieces.
Let it roast for 3 minutes until 3/4th done. Remove it.
Add half spoon of butter and toss 1 cup of cut baby corns till 3/4th done.
Let it cook for 5-7 minutes.
Mix both veggies,salt,pepper powder and  seasoning you wish.
I added some herbs.
Pomegranate Lemonade:
Extract juice from 1 pomegranate and filter it.
Add juice from 1 lemon and add required sugar.
Add cold water if needed to dilute as needed.
You can replace tofu with paneer or bread croutons.