Preparation time

20 mins

Cooking time

10 mins

Difficulty

Serves

2 people
Meal course

Posted on

October 30, 2020
1 no.

2 no.

1 1/2 bunch

1/4 no.

5 no.

1 bunch

1 no.

6 no.

3 tblspn

3 tspn

1 tblspn

1 cup

1 tblspn

3 tspn

1 tspn

2 tspn

2 inch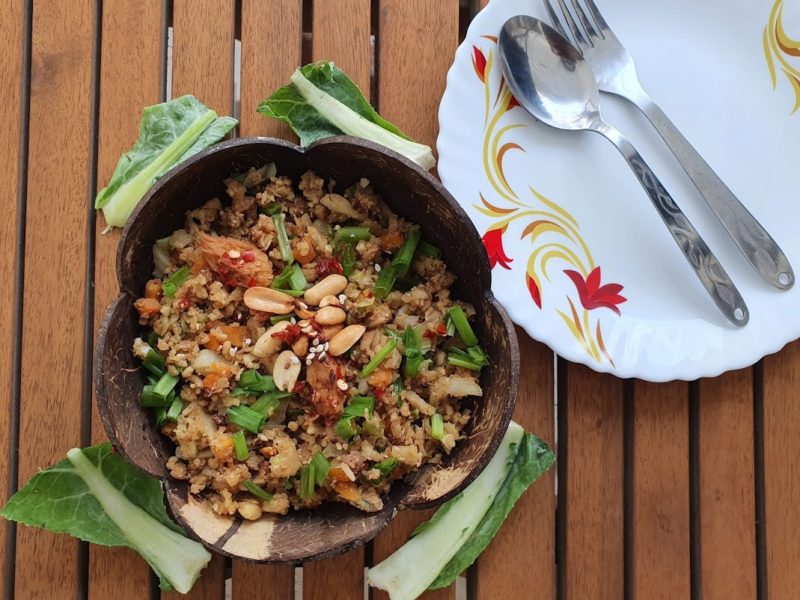 Cauliflower rice is an easy low carb option and can be flavoured easily as per our palate. It is nothing but grated or coarsely ground cauliflower with a similar texture of  millets. Chinese cauliflower rice is mildly spiced with chinese ingredients and lot of vegetables making it a completely healthy meal.
Method:
Finely chop vegetables such as 1/4 cup cabbage,2 carrots,1 capsicum, 1/4-1/2 cup spring onions,5 mushrooms.
I pressure baked the vegetables in a 2L cooker with 2 tblspn water and salt,pepper powder for 1 whistle on high. You can alternatively fry it in pan separately till just cooked, but this saves time.
Take 1.5 bunch of cauliflower or 2 bunches if it is small. Separate the florets, cut down the thick stalk as much as possible.
Wash them well in cold and hot water . Drain and pulse it in mixer for just few seconds once or twice.
Keep checking as it could easily turn mushy. I made in two batches to get coarse grains.
In a clean towel, add the ground rice and squeeze excess water.
Make them fluffy again and it should be dry.
In a bowl,add 1 tblspn dark soy sauce,2 tblspn water,2 inch crushed ginger,1 tblspn chilli flakes.
Chop 5 garlic cloves, medium onion finely. Add sesame or gingelly oil in a heavy bottom wok/pan.
Add a tspn of black and white sesame seeds. Let it slightly splutter.
Add the cooked vegetables and toss slightly to remove any moisture left while cooking. Keep it aside.
Add 2 tspn oil,garlic,onion,mushrooms and toss it on high flame. Add cauliflower rice and 1 tspn salt.
Bring to medium or low flame, stir it loosely for 3-5 minutes. You can sprinkle some water occasionally to avoid burning.
There will be a slight brownish colour change. Cook cauliflower for the softness you need. Do not make it mushy.
Once it is 3/4 done, quickly add vegetables, spring onions and bring to high flame.
After 2 min, add soya sauce mixture and mix well.
Roast some peanuts and add it finally for crunchiness.
Switch off and serve warm.
For a fool proof method, stir vegetables separately (even if not using pressure cooker) and remove moisture completely before adding to cauliflower rice.
You can add some more sesame seeds at last, sliced almonds too.
You can use butter along with oil for frying for a nice flavour. Soya can be replaced with lemon juice for kids friendly version.
Increase salt,pepper,sourness as per your taste. More milder version can be only garlic,ginger,lemony, butter tossed cauliflower rice.