Preparation time

5 mins

Cooking time

6 mins

Difficulty

Serves

3 people
Meal course

Posted on

February 9, 2021
1 1/4 cup

1 cup

5 no.

3 no.

1 tblspn

1 size of gooseberry

1 inch

2 tspn

2 tblspn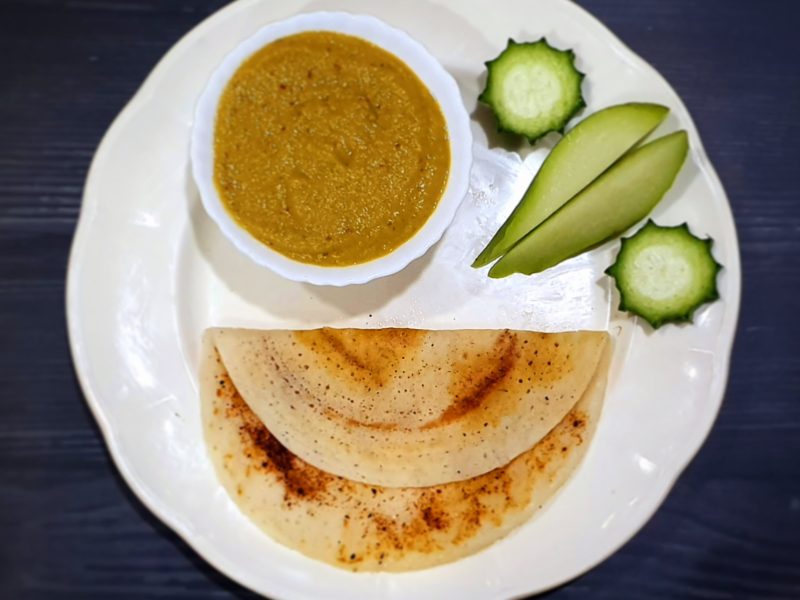 Chow chow and Ridge gourd are some easily available watery vegetables in south India otherwise called Neer kaikari. This recipe can be made with anyone of the single vegetable too. With nuclear families, we tend to have left overs of bigger vegetables like these and this chutney is an easy way to use up all the halves of such green veggies. It is quick to cook and grind. Less spicy versions are good for kids too to add them into diet.
Method:
Peel the skin of chow chow and remove the white middle part. Cut them into smaller pieces.
Clean the ridge gourd and peel the sharp part of the skin alone. Chop them into smaller pieces. The skin can be ground as well. If you prefer the skin is too thick, peel them completely.
I cooked the vegetables separately in 2L pressure cooker for a quick 2 whistles on high with 2 tblspn water and some salt.
If you prefer traditional saute method, then add 1.5 tblspn gingelly oil in a kadai. Add a small piece of compounded hinge(katti perungayam). Reduce the flame.
Once it is fried, add 1 tblspn whole urad dal, 4-5 peeled garlic cloves,fry until slightly brown.
Add 2-3 dry red chillies, 10 curry leaves, 1 inch tamarind and saute quickly for less than a minute.
I added the cooked vegetables and stirred it for 2 minutes and switched off the stove.
If you have uncooked vegetables,  then saute it for 4-6 minutes until the vegetables are soft enough to grind.
Once it is cooled, grind them with needed salt. I used only 2 dry chillies while grinding. You can increase 1 or 2 if you prefer more heat.
Add very little water only if needed. They already have natural water content good enough for chutney.
Serve this chutney with idly or dosa.
You can add coconut too along with this.