Preparation time

10 mins

Cooking time

25 mins

Difficulty

Serves

8 people
Meal course

Posted on

April 11, 2021
1/4 tspn

2 tspn

1 pinch

1/2 cup

1/2 tspn

1/2 tspn

10 no.

5 no.

3 no.

10 no.

5 no.

20 no.

1 tspn

1 tspn

3/4 cup

1/4 cup

2 tblspn

1/4 cup

1/2 cup

1/2 tspn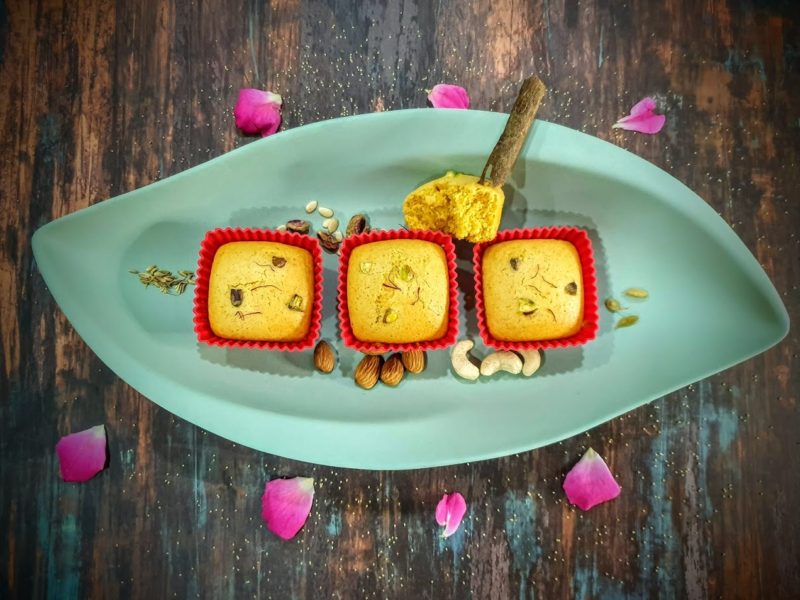 Wheat Kesar Thandai muffins are inspired by the popular flavourful summer drink Thandai and with goodness of whole wheat, Indian spices and nuts. This has a taste of Rasmalai, mild Thandai and you can feel the richness of saffron milk.
Method:
Soak 20 strands of saffron strands in 1/4 cup of milk. You can give a quick boil once or twice so that saffron essence enters sooner.
After it becomes lukewarm, add 1 tsp of Apple cider vinegar and rest for 5 min. If you dont have ACV/vinegar, you can use lemon juice. The milk should curdle.
Dry roast 5 Almonds,5 cashew,5 pista,10 melon seeds in medium flame for 2 min slightly.
In the same pan, toast poppy seeds and fennel seeds for few seconds and cool them.
Crush 3 cardamoms and grind the pods along with all the above , to make Thandai powder. Since I had cinnamon powder, I used a pinch of it directly. Else you can roast 1/2 inch of it and include in this powder.
Measure 1/2 cup of sugar and powder it well.
Preheat convection oven to 180 deg C for at least 10 min.
Sieve the dry ingredients in a bowl. 1/2 cup of whole wheat, 1/4 cup of maida, 2 tblspn milk powder,1 tsp of baking powder,2 tspn of thandai powder,pinch of cinnamom powder and 3/4th of sugar powdered.
I used white sugar and bit of maida to get a bright colour of yellow/orange. If you dont need a brighter colour, you can make it whole wheat and use brown sugar/cane sugar.
For wet ingredients, add curdled saffron milk,1/4 cup oil in a bowl and mix till it blends uniformly.
Add dry ingredients half by half and fold it gently. Do not ivermix or else you end up in dense cake.
Add pinch of turmeric, 2 tsp of rose water,1/2 tsp vanilla essence also. I added a pinch of orange kesar powder for the colour. You can skip and increase turmeric to get brighter colour.
Add 1/4 cup more milk and mix. I needed 3/4 cup and 2 tblspn in total as I used multigrain atta. The final consistency should be not too thick as blob  and not too flowy as well. Adjust milk accordingly.
Prepare cupcake moulds by brushing oil and dusting with flour/use paper moulds. I used silicon moulds, so did not need this process.
Fill 2/3rd of moulds. Depending on the size of muffin moulds, you would get 6-8muffins. Mine were quite bigger and fit in 6 wholesome muffins.
Finely chop pista and decorate on top of muffins.
Bake it for 20 min. Depending on convection oven, the timing might vary. It took 18 min for me.
Check after 15 min and bake till toothpick comes out clean from the centre.
Cool down in a rack and enjoy the muffins afresh. You can store it in air tight container and use within a day or two at room temperature.
You can use the whole sugar if you need muffins to be more sweeter. 3/4th of it was just enough for me.
You can also use dried rose petals instead of rose water.
You can also add a pinch of salt and pepper in the batter.