Preparation time

10 mins

Cooking time

27 mins

Difficulty

Serves

9 people
Meal course

Posted on

April 25, 2021
1/4 cup

1/2 cup

1 1/4 tspn

1/2 tspn

1 1/4 tspn

1/4 cup

3/4 cup

1 tspn

1 tspn

1 no.

1/2 cup

1/2 cup

1/2 cup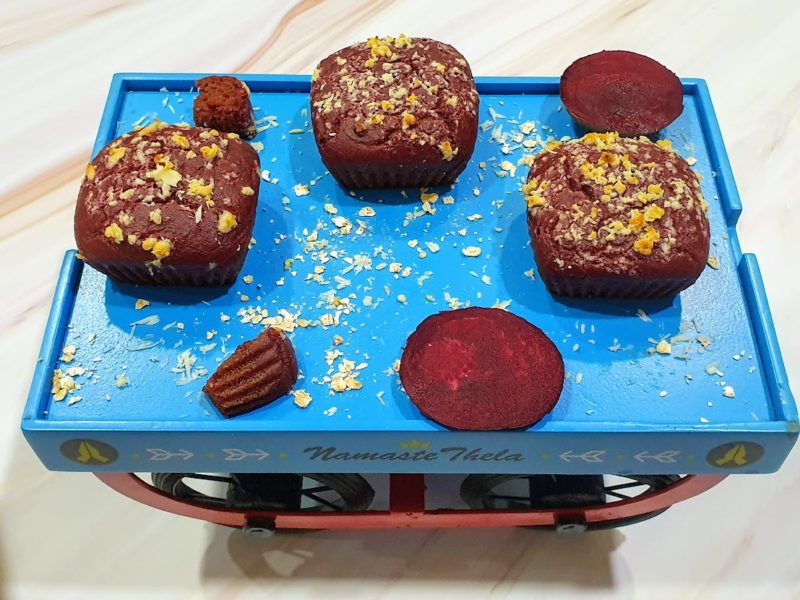 Red velvet muffin is a familiar type of muffin made with cocoa as the main flavour. This recipe is  Whole wheat and oats based with the goodness of beetroot, no artificial colours and white sugar. The use of Apple cider vinegar reduces the raw flavour of beetroot a lot bringing out other flavours added.
Method:
Chop a medium beetroot into small chunks, add 1/2 cup of water, few drops of apple cider vinegar (retains a maximum of colour) in a small pressure cooker and cook it for 6-7 min or for 3 whistles on medium-high flame. You can cook extended time with 3/4 cup water too to make a very smooth puree.
Meanwhile, make oats flour by grinding Quaker plain easy cooking oats and measure 1/4 cup of it.
Sieve 1/4 cup oats flour,3/4 cup whole wheat flour, 1 tsp cocoa powder, crushed cardamom powder from 1-2 cardamoms,1.5 tsp baking powder and 0.5 tsp baking soda.
In a mixer, add 1/2 cup brown sugar/country sugar, 1/4 cup oil(or melted butter, melted ghee), 1/2 cup curd and beat it smoothly. Add in a big bowl.
Preheat the convection oven to 180 deg C for 10 minutes.
Once the beetroot is cooked, cool it well.
Now make beetroot puree separately not adding too much water. (Use the cooked water completely).
We need only 1/2 cup or a bit less than 1/2 cup of smooth thick beetroot puree.
Add it to the sugar curd mixture now. Add the sieved in dry ingredients. Add 1/4 cup milk and mix smoothly. If needed, add some more milk ( 1tblspn upto 1/4 more cup little by little and not more than that) to get a velvet-smooth consistency. Stir everything very slowly (use cut and fold method-a circle and cut in the middle format). It should easily flow from the ladle, not a blob, not too watery also.
 Add 1 tsp vinegar, 1 tsp vanilla essence also and mix well.
Prepare the muffin moulds by applying oil and dusting it with flour. Since I use silicon moulds, I skip this step.
Fill 2/3rd of the muffin cups and shave some white chocolate/dark chocolate slab, or just some chopped nuts. The addition of cardamom gives a taste of beetroot Halwa.
Bake the muffins for around 20 minutes until the middle of the muffin comes out clean. Depending on the oven , timing may vary slightly. Keep checking only after 15 min. It took exactly 18 min for me.
It gives 6(if it's big)-9 (smaller size) cupcakes.
Cool them completely and serve them with tea or coffee. You can refrigerate and have it for 2-3 days( warm it again before eating).
Since it uses Oats flour, more colour is retained than whole wheat. You can still replace them into whole wheat 1 cup and use less of baking powder (1 tsp only). Oats require more leavening agent than baking flour.
If you prefer cooking beetroot is time-consuming, you can directly grind raw beetroot too but that might not always grind smoothly.
You can also follow the recipe of carrot muffin and replace it with beetroot if you prefer only grated beetroot. But that does not make it red velvet. https://naanveggy.com/recipe/eggless-whole-wheat-carrot-cupcake-muffins/
You can enjoy this with cream cheese frosting too.
Adding pieces of soft white or brown chocolate makes some red velvet molten chocolava muffins.
Adjust sugar according to taste.
You can still use just 1tsp baking powder, with other measurements retained, but I felt the muffin turns out more soft/moist but denser too.