Preparation time

10 mins

Cooking time

20 mins

Difficulty

Serves

3 people
Meal course

Posted on

November 27, 2020
2 tspn

2 tblspn

3 no.

5 no.

1/2 no.

1/2 tspn

2 tspn

1 tspn

1 no.

2 tspn

3 tspn

2 no.

8 no.

1/2 bunch

2 no.

5 no.

2 no.

1 tspn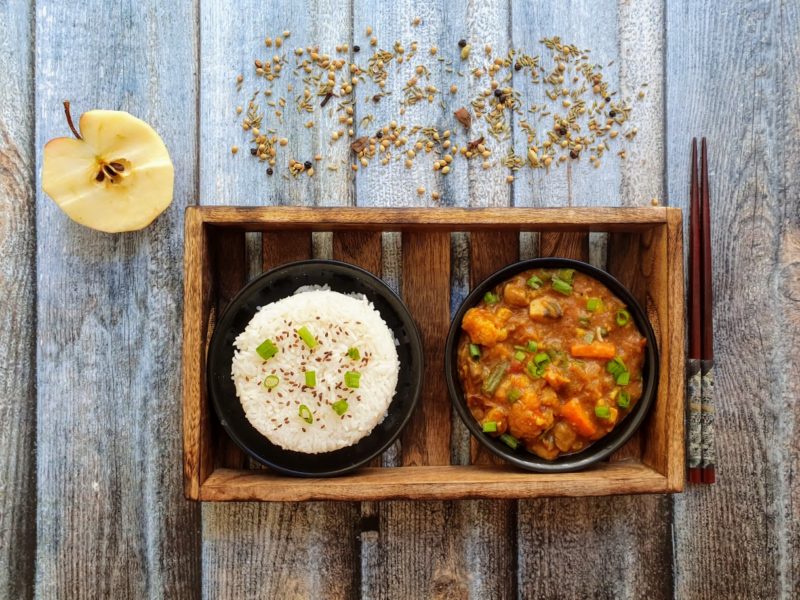 Japanese curry is a milder version of Indian vegetable gravy so good for sweet palate. I was surprised initially on tasting this curry first time in Japan and that has become one of my favourites then, due to less spicy nature and healthy vegetable combinations. I followed some simplified methods to cook the curry unlike traditional ways but the output turned exactly the same. This is good even for babies/kids. It goes well with rice or roti.
Method:
Japanese curry is characterized by chunky vegetables, tasty broth, curry powder, flour glaze,sweet taste from apple.
Curry powder is the main ingredient of this dish. You can use a mix of garam masala, coriander powder,cumin powder,turmeric with little red chilli powder(see notes below).
I made a fresh batch with the following dry roasted ingredients.

3 tspn coriander seeds
2 tspn cumin
1 tspn of fennel(saunf/sombu) seeds,black pepper
1 star anise
2 cardamoms
1/2 tspn fenugreek or methi seeds
1/4-1/2 cinnamon stick
3 cloves

Make tomato puree removing the skin. I cooked in a pressure cooker with a bigger chunk of tomatoes, salt,1 cup of water for 3 whistles. Remove skin, cool and puree it. Retain cooked water for future use.
Cut carrots, potatoes, beans as long/ bigger chunks.
There are two ways to do the broth- in an open pan as well as pressure cooker.
In a 2L cooker, add the veggies, 2 cups of water,1 bay leaf,3 garlic cloves crushed,salt and pepper. Cook for 3 whistles on 130 deg C high which takes approximately 8 min.
If you prefer a pan, close and cook till the vegetables are just done, approximately 8-10 min on high.
Make sure not to overcook as it will be cooked finally in gravy too.
Cut 1/2 cauliflower into medium florets, boil in water to clean as well as cook it 3/4th.
Chop mushrooms as big chunks.
Chop 2 onions finely. Make ginger garlic paste from 3-5 garlic cloves,2 inch garlic.
Add 3 tblspn neutral oil,1 tspn butter in a thick pan. Add the onions and stir them in a medium flame until it is caramelized. The onions should lose pink colour, have a glaze,soft and start to brown slightly.
Add ginger-garlic paste. Then add mushrooms with salt and stir well.
Once it is 3/4th done, add curry powder,2 tblspn cornflour,1 tblspn butter. Ideally, sweet rice flour is added but you can replace it with this.
After 2 min, add cauliflower, filtered vegetables from the broth (retain the broth entirely for base).
After 2-3 min, add tomato puree, part of the broth,salt,1 tsp soya sauce. Cook on high flame without burning bottom for 5 min.
Add finely grated apple made from half apple into the curry and add rest of the broth. The base would have thickened by now.
You can add tomato cooked water if used pressure cooker, else add 1-2 cups of plain water as needed.
Let it cook for 3-5 min more and get a starchy base.
Top it with herbs of your choice like spring onion or coriander if you wish.
Serve it warm with rice or roti.
If using instant powders instead of curry powder, add 2-3 tsp garam masala,1 tsp coriander powder,1 tsp cumin powder,2 tsp turmeric powder,1/2 tsp chilli powder.
You can add cheese while serving,for a great flavour. I had that version while in Japan.
Add vegetables of your choice like peas, bell pepper, zucchini,tofu,soy chunks, red beans, eggplant or broccoli.
You can add Kashmiri chilli powder for a bright red colour or even tomato ketchup.
The traditional recipe uses sauce like Worcestershire, apple sauce but I skipped that, still tasted so good.