Preparation time

5 mins

Cooking time

20 mins

Difficulty

Serves

3 people
Meal course

Posted on

November 18, 2020
2 no.

1 1/2 tblspn

30 no.

1 1/2 cup

1 no.

10 no.

2 inch

1 tblspn

1 tblspn

1 no.

2 tblspn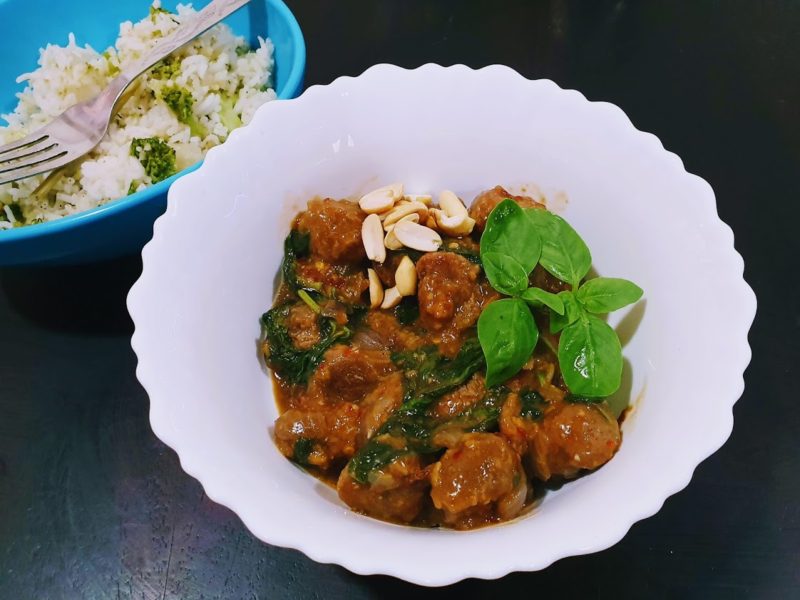 Thai Basil Soya chunks is a vegetarian version of popular dish called Thai Basil chicken with my take on available sauces. It is best had with steamed rice, fried rice or rice noodles. This is fragrant, refreshing and simple to make, good to have on a cold day.
Method:
Boil 3 cups of water with 1 tsp salt well and put 25-30 soya chunks. Close and leave it for 5 min to make it soft.
Meanwhile, make a chilli paste with 2 dry red chillies,1 green chilli.
Squeeze the mealmaker chunks after washing with cold water. Add 1/2 tblspn dark soy sauce, bit of salt and 1 tblspn corn flour to soya chunks and mix it well. Leave it aside for 5 min.
In a pan, add 2 tblspn of gingelly or sesame oil, 7-10 small garlic cloves,2 inch crushed ginger,1 diced onions till slight brownish on high flame.
Add the chilli paste and toss till the raw smell goes.
Toss the soya chunks mix into it and coat it well. Let it get bit crisper and raw corn flour smell goes off by cooking for 2-3 min on medium flame.
Add 1/2 cup of water and boil for 3 more minutes.
Mix 1 tblspn Teriyaki sauce,1 tblspn dark soya sauce well and add it to the gravy.
Add 1/2 more cup of water to thin it. You can add water as per the consistency needed.
Add 1-1.5 cups of washed Thai basil finally and give a toss until it gets softer. Do not cook for more than 3 min. You can even switch off the flame after 2 min.
Serve warm with steamed rice or veg noodles.
You can replace Teriyaki sauce with vegetarian Oyster mushroom sauce or any other similar Asian sauces. If not having them, you can add 1 tblspn of corn flour mixed with 2 tblspn water, pinch of brown sugar and add some more soy sauce. Increase garlic and ginger flavours if needed.
You can also add capsicum or mushroom along with this.
Increase spice level with chillies if needed.
You can replace soya chunks with Tofu too.