Preparation time

4 mins

Cooking time

10 mins

Difficulty

Serves

2 people
Meal course

Posted on

January 16, 2022
1 no.

5 no.

5 no.

1 handful

1 tspn

3 cup

1 tspn

1 tspn

1 tspn

1 1/2 tspn

1/2 Cubes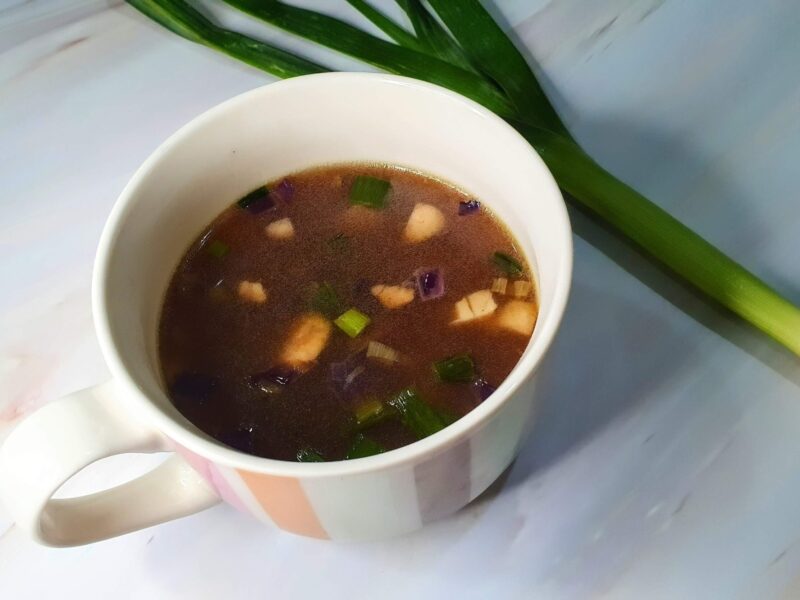 Vegetable Leek Onion clear soup is a very quick low carb soup done with minimal ingredients and very healthy. Usually Leek soup is combined with starchy veggies to make it a creamy one. This is a clear soup made flavourful with its mindful ingredients. This does not stick to a particular cuisine, a mix of some of some of the best flavours of Asia and Europe. This soup is good for weight loss and a warm drink on a cold day.
Method:
Chop 1 whole leek finely – both the white and green parts. Finely chop 4-5 cloves of garlic.
Roughly chop a handful of cabbage and mushrooms. I used purple cabbage as it has more sweeter taste and I prefer that in such a soup.
Heat 1 tsp of butter,1 tsp of olive oil (or any unflavoured oil)  in a soup pan/Kadai. Toss garlic and leek on low heat.
Once they are soft and shiny, add other veggies. Stir fry them on medium heat for 3-4 min.
Mix 2 tsp of corn flour to 1/2 cup of water without lumps. Add it along with 2 more cups of water to the soup.
Let it boil for 3-4 min on medium high heat. Add needed salt and pepper. Let the raw smell of corn flour go.
Add 1-2 tsp of Soya sauce as per taste. Do not boil after this.
I added 1 tsp of grated cheese finally and let it melt. You can skip this step if not needed. This adds to  the richness of the soup.
Serve warm with bread of your choice.
You can also add other quick cooking vegetables like sweet corn, green cabbage,thinly sliced carrots.
You can even replace Leek with spring onion and 1 usual onion finely chopped.