Preparation time

5 mins

Cooking time

13 mins

Difficulty

Serves

3 people
Meal course

Posted on

February 25, 2021
1 no.

3 no.

150 gm

4 no.

1/2 inch

200 gm

1 no.

1/2 no.

2 tblspn

1/2 tspn

1 handful

1 tspn

1/2 tspn

1/2 tspn

1 no.

5 pieces

5 cup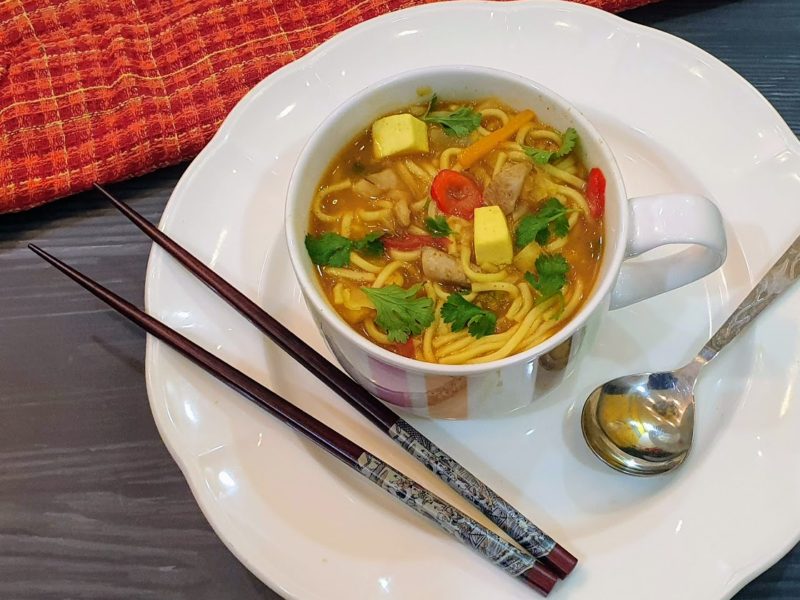 Vegetable Thukpa is an easy nutritious one pot meal prepared in a jiffy. You can add in any of your favourite vegetables, healthy noodles and spices for a fulfilling soupy noodle bowl. It uses traditional Indian spices and very famous in North-east. This recipe uses simple household ingredients and a quick easy pressure cooker method.
Method:
Add 1 tblspn oil in a 3L pressure cooker, stir ginger,garlic and onions in medium flame.
After it is slightly softened, add cut mushrooms and toss well till cooked 3/4th.
Add in long thinly cut carrot, capsicum(I used red capsicum here, add it with the seeds inside for extra heat),cabbage and saute a bit.
Add the noodles cracked to fit in the cooker. I used Sorghum noodles. You can use any thin noodles like rice,wheat,any millet or maida ones whatever available.
Add approximately 5 cups of water. You can add 4-4.5 medium cups for cooking and add later if needed post-cooking.
Add in 0.5 tsp turmeric powder,1 tsp coriander powder,0.5 tsp garam masala and 0./5 tsp chilli powder. Add needed salt.
Cook on high flame for 3 whistles which took me around 5-6 minutes.
Release pressure immediately. If not planning to do, you can switch off with 2 whistles and let the pressure settle.
Now, in a medium flame, add 2 tblspn soya sauce, Paneer, spring onion leaves and coriander leaves. Adjust the spice powders if needed.
You can replace paneer with tofu or avoid them altogether. It is for adding some good proteins.
Let it boil, which takes around 3-4 min.
Switch off and serve warm.
Thukpa is well consumed piping hot and good for flu.
You can add any vegetable of choice that goes well with soup.
Decrease the amount of noodles if you need more soup.
If the consistency looks so thin for you, add in a tblspn of corn flour mixed in water without lumps, stir at the last stage after opening the cooker.