Preparation time

130 mins

Cooking time

30 mins

Difficulty

Serves

3 people
Meal course

Posted on

August 29, 2020
1 cup

2 tblspn

1 cup

4 tspn

1 tspn

1 1/4 tspn

13 Strands

1 tblspn

1 tblspn

4 no.

5 no.

12 no.

1 tspn

3 tspn

1 tspn

1 tspn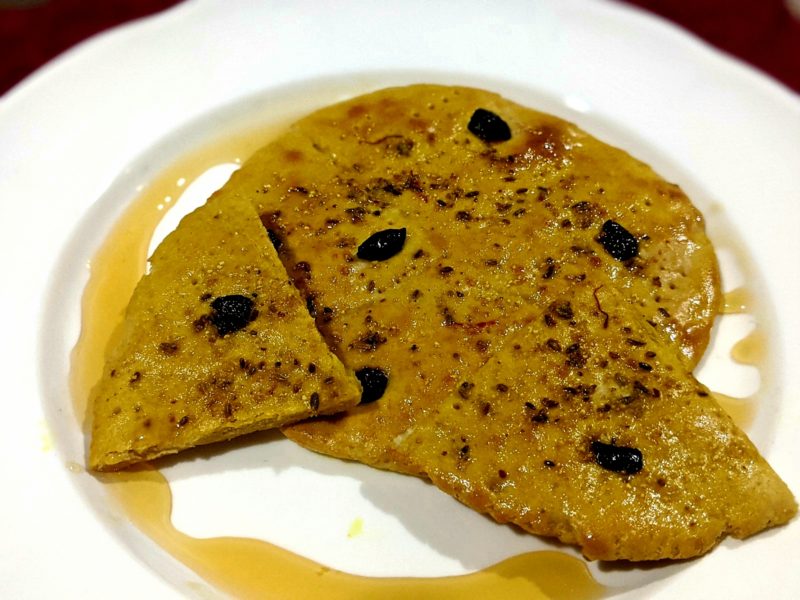 Sheermal is Iranian sweet naan made by soaking in milk. It has a very rich flavour and good as a meal by itself with a sweet dip or any savoury gravy. This recipe is made predominantly with whole wheat ,dry fruits and brown sugar making it all the more healthy for everyone.  The fragrant saffron, rose water and fennel are the highlights of it. This is a convection oven method recipe with suggestions of stove top way too.
Method:
Add 1.25 tsp of dry active yeast to 3 tblspn of lukewarm water and 1 tspn sugar. Mix well and leave aside for 5 min till it gets activated and frothy.
Add 1 cup whole wheat flour,2 tblspn all purpose flour for elasticity and softeness, activated yeast, 2-3 tspn sugar, 1 tspn salt in a non sticky vessel.
Add 2 tsp ghee, 1 tsp softened butter making a well in the middle. Use 1/2 cup warm milk little by little to make a soft dough. It will be bit sticky initially but turn out to be soft dough, not too dry. Do not add too much milk.Knead it for 5 min.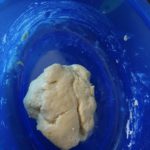 Close it with wet towel and place in a warm place for 1 to 1.5 hrs till it doubles in size.
Milk preparation:
Before 15-20 min while waiting for doubling up of dough, add 10-15 strands saffron to warm milk.
Add 1 tspn rose water(optional), 1 tspn honey,1/2 tsp turmeric powder and set aside.
Topping:
Powder 1 tsp fennel seeds, few cashew pista in a mixer.
Making Sheermal:
After doubling , divide the dough and make 3-4 equal balls. I made 2 small and 2 big. Roll it to a thick roti, apply generous milk mixture, top it with nuts powder,raisins and some poppy seeds.
Make slight impressions on it using fork and toothpick for not puffing up, design and better cooking.
Place each sheermal on baking sheets.
Let it raise for 20-30 min again a bit.
Preheat convection oven to 200 deg C, and place 1 or 2 sheermals as per tray size with parchment paper.
Cook for 8-10 min till the upper layer starts turning golden brown. Mine took 8-9 min but might vary as per oven. Keep a check after 5 min once.
It might be bit harder than the usual naan but that's how the texture will be. Do not overcook till it is so crispy.
After it is cooked, take it out, cook a bit and apply lot of ghee and milk mix if needed.  I used warm ghee mixed with turmeric powder for the final colour.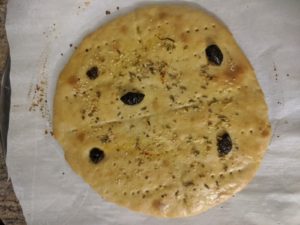 Serve warm with gravy of your choice. You can have it alone with a sweet dip like honey. This is kids friendly too and my toddler loved it.
Adjust the sugar as per taste.
Use any nuts or dry fruit chopped finely on top too.
If making on stove top, it takes 10-12 min. Heat tawa in high flame adding generous ghee and then lower the flame placing sheermal, flip each one slowly once every 2-3 min until its cooked well.